Do you know what 9o0gle.com is?
A program that goes by the name of 9o0gle.com is an application that you do not want to find running on your operating system. After an in-depth analysis of this devious piece of software, our researchers at Spyware-Techie.com have classified it as yet another browser hijacker which must be removed as soon as it is discovered running on your operating system. Doing so is crucial since this invasive program can only cause annoyance and frustration by making unauthorized changes to your web browser's default settings. The worst thing about these intrusive modifications is the fact that they could turn out to be as dangerous as they are bothersome. To avoid all of the invasive and potentially harmful features of this browser hijacker make sure to execute its complete removal at the very same instance that it is found running on your computer. You can get rid of 9o0gle.com in the easiest way possible by following the detailed removal guide that we provide below.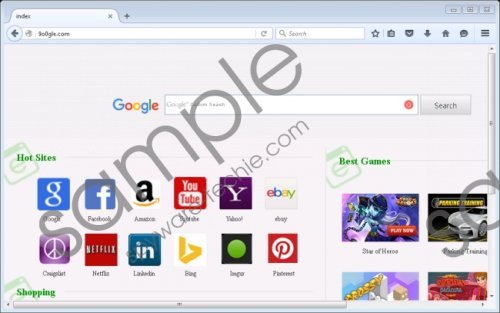 9o0gle.com screenshot
Scroll down for full removal instructions
It is important to note that 9o0gle.com affects popular web browsers such as Google Chrome, Mozilla Firefox, and Internet Explorer. This means that nearly every Internet user could be affected by this devious piece of software. As soon as it enters your operating system, it will alter your web browser's default homepage without any notification. In some cases, changes within your web browser's default settings might seem quite refreshing at first. This could be the case with the aforementioned alteration as you are presented with a website that provides a search field, a section of your most visited websites, a separate section of gaming and shopping sites. Unfortunately, in reality, these seemingly useful features will not be helpful in any way. Additionally, you must know that for as long as this browser hijacker is fully active on your PC, you will have no choice but to start every single online session on a newly appointed third-party web page whether you like it or not. It goes without saying that such functionality of this hijacker will make surfing the web the way you prefer a virtually impossible task. If you want to restore the default settings of your web browser, you will need to delete 9o0gle.com from your personal computer once and for all. If its complete removal is not performed, the changes made by it will remain intact and will continue to bother you.
Another major reason we urge you to delete 9o0gle.com in its entirety is the fact that in some cases it could prove to be quite dangerous. Our research team has discovered that sometimes the search filed within the newly appointed homepage could present you with devious and potentially harmful results embedded with redirect links. Even though such results do not occur often, it remains a possibility to come along one, and that could prove to be rather detrimental to your operating system. This is so because you could be taken to websites that might be running an arbitrary code execution exploit and in some cases just landing on such a website could be enough to get your personal computer infected with some unknown malware. It goes without saying that the hijacker in question is a major virtual threat, which should be terminated without any hesitation. If you leave 9o0gle.com active, your operating system will remain at constant risk of getting infected with some other potentially malicious programs.
Do not hesitate and delete 9o0gle.com as soon as it is detected on your operating system. Make sure to double-check your operating system for potential leftovers linked to this browser hijacker right after you are done with the manual removal. This is critical since a single missed step could mean that an intrusive program was not removed entirely. In certain cases, the leftovers of this hijacker could be used in devious ways. For example, traces of it could trigger a silent restoration procedure or could be enough for the dubious changes to remain intact.
How to remove 9o0gle.com from your personal computer
Google Chrome
Start your web browser.
Click the Chrome Menu button and select Settings.
Slick Show advanced settings.
Select Reset settings.
Click the Reset option to confirm your choice.
Mozilla Firefox
Launch your web browser.
Select the Menu button and click the question mark icon at the bottom.
Select Troubleshooting Information and click Refresh Firefox.
Click Refresh Firefox to confirm your choice.
Internet Explorer
Open your web browser.
Click the Menu button and select Internet Options.
Select the Advanced tab and click Reset.
Check Delete personal settings and then click the Reset button.
Click Close.
In non-techie terms:
The complete removal of 9o0gle.com is essential. If you happen to be a user that find manual removal a bit too challenging, you should follow the instructions that we provide below. These alternative instructions will allow you to delete this browser hijacker in an automatic manner.