Do you know what 6789.com is?
6789.com is an untrustworthy domain which is usually classified as a browser hijacker for its ability to change the settings on Internet Explorer without permission. Also, it uses techniques borrowed from other browser hijackers to enter users' computers unnoticed. At the time of writing, it is spread actively and has already affected a number of computers in China, Japan, Myanmar, and the United States. Of course, 93.5% of all the victims live in China because 6789.com itself is a Chinese browser hijacker using this language. The situation might change in the future, so do not be so sure that you are safe. If you ever notice that 6789.com is opened for you automatically when you launch Internet Explorer, there is no doubt that you have encountered a browser hijacker. Yes, luckily 6789.com is an Internet Explorer browser hijacker, so to disable it, you will need to undo the changes applied to this web browser only. We cannot promise that this will be very easy, but we have no doubts that you will manage to take care of it with our help, so continue reading!
6789.com is an extremely irritating Chinese domain which changes the Internet Explorer settings, as you already know. In order to be noticeable, it alters homepages and Start pages on users' browsers. As a consequence, it is loaded when the browser is launched. Users who get infected with this browser hijacker usually find the presence of 6789.com extremely annoying, especially if they have no command of Chinese, because their preferred pages are gone, and they need to perform web searches using this dubious search engine. Also, they quickly notice that this URL is full of commercial advertisements. Actually, the presence of these ads and sponsored links is the main drawback of 6789.com. Our guys from the research department have revealed that these ads/links might be directly associated with untrustworthy third-party pages. This suggests that users who use 6789.com and click on them incidentally/voluntarily risk ending up on bad pages and causing harm to their PCs. What is the worst that could happen? Our security specialists say that users might quickly allow malicious software to enter their computers by surfing untrustworthy websites. In addition, online privacy issues might arise since these shady websites often gather personally-identifiable information. Luckily, all these security and privacy-related problems can be avoided by eliminating 6789.com from Internet Explorer. The sooner you erase it, the better, so take action today.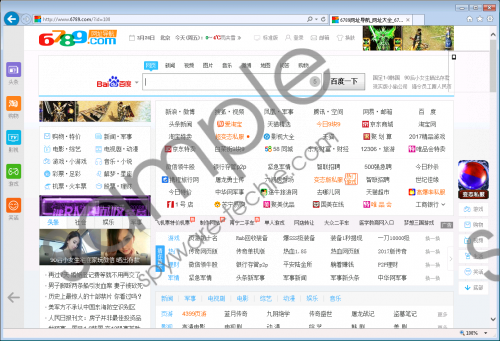 6789.com screenshot
Scroll down for full removal instructions
Research conducted by our specialists has also shown that the 6789.com browser hijacker travels in software bundles, i.e. the bundling method is used to spread it. Because of this, users believe that this computer infection has sneaked onto their computers without their permission, but the truth is that they have contributed to its entrance. Users install software bundles on their PCs because they are quite careless and do not read what it is written for them in the Install Wizard. Most probably, you have downloaded some kind of application from the web recently too and quickly installed it on your PC without paying much attention to the information provided for you. The names of additional programs are usually listed for users, but, in most cases, they need to choose the Advanced installation option to see this list. Do this the next time you install new software from the web – you could discard the undesirable/unknown software quite easily.
The 6789.com removal would not be an easy step, but it is a must to take care of it. Resetting your Internet Explorer browser is one of the ways to get rid of it, but if you want to make sure that there are no traces of this infection left on your computer, go to erase it manually. You can use our manual removal guide located below this paragraph if you need some guidance.
Delete the 6789.com browser hijacker
Press Win+R.
Type regedit and press Enter.
Open HKLM\SOFTWARE\Microsoft\Internet Explorer\MAIN.
Locate the Start Page value, right-click on it, select Modify, and type a new URL in the Value data field. Click OK.
Open HKCU\SOFTWARE\Microsoft\Internet Explorer\MAIN.
Repeat the 4th step.
Remove two registry keys (right-click on a key and select Delete):
HKCU\Software\Microsoft\Internet Explorer\DOMStorage\www.6789.com
HKCU\Software\Microsoft\Internet Explorer\DOMStorage\6789.com
In non-techie terms:
Other computer infections you know nothing about might be working on your computer too, so we cannot guarantee that your PC is now clean after the removal of the 6789.com browser hijacker. You can find out the truth only by scanning the computer with a reputable antimalware scanner. If it is trustworthy, it will provide a list containing all detected infections. Delete them all as soon as possible because a new browser hijacker, or a much serious threat, might successfully enter your computer with their help once again.