Do you know what '44-8000-903-274' Pop-Ups are?
If you keep encountering '44-8000-903-274' Pop-Ups, there is a great chance that malware has invaded your operating system. These pop-ups always show fictitious and misleading information, and they always recommend calling a helpline number that cannot be trusted. Our research team has recently reviewed this scam, and the conclusion is that you need to stay away from it. If you call the helpline number, you could be tricked into disclosing sensitive information or even giving schemers more control than you should. Of course, you cannot ignore the misleading pop-ups either. If they keep reappearing regardless of which site you visit, it is likely that you need to delete malicious software. If you have no clue as to what kind of malware has invaded your operating system, you should utilize a legitimate malware scanner to disclose malicious infections for you. Only then will you be able to find a way to remove '44-8000-903-274' Pop-Ups permanently.
Online scams are very popular among schemers, and they often employ misleading pop-ups to confuse users and trick them into acting in certain ways. "Fake Error ERREUR # DW6VB36," "Fake Windows Defender Alert," and "Call technical support +1 888-640-5832" are just a few of the many scams that our malware research team has analyzed. The misleading '44-8000-903-274' Pop-Ups are in no way unique. Just like most other misleading messages and notifications used in scams, these pop-ups are introduced to users after redirecting them to malicious sites. http://fas-twab-server.online/msie1.php?num=44-8000-903-274 is one of them. Once you are redirected to this page, you are immediately introduced to a pop-up suggesting that you need to delete malicious viruses and spyware. The first red flag is the alert itself because it is shown via a page that is in no way related to your operating system or your anti-malware software (if it exists), and the Microsoft logo at the top must be ignored. The second red flag is the vagueness of the message. '44-8000-903-274' Pop-Ups do not reveal the specific infections that you allegedly need to delete from your operating system.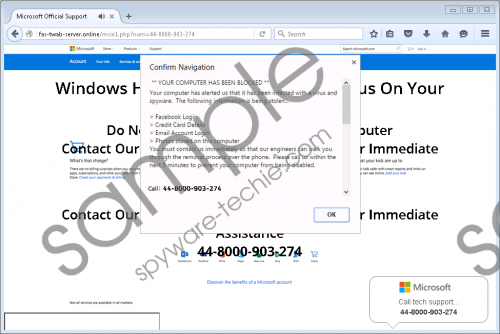 '44-8000-903-274' Pop-Ups screenshot
Scroll down for full removal instructions
One of the '44-8000-903-274' Pop-Ups alerts we have found suggested that malware active on the PC was stealing Facebook and Email logins, credit card details, and personal photos. Undoubtedly, such claims are bound to catch your attention. If you are tricked into thinking that malware has invaded your operating system, you might trust the statement suggesting that if you call 44-8000-903-274 within 5 minutes, technicians will stop "your computer from being disabled" and will teach you how to remove malware. In reality, if you call the fake helpline, you might be tricked into disclosing your identity, sharing confidential information, paying for bogus services, or even downloading malicious programs, some of which might enable remote access. Needless to say, if you do not want to be scammed, you should not pay any attention to the warnings and suggestions represented via '44-8000-903-274' Pop-Ups.
If you have been routed to a page representing '44-8000-903-274' Pop-Ups when you interacted with an unreliable link, the chances are that you can avoid this scam in the future. However, if the suspicious pop-ups keep appearing, it is likely that you are dealing with malware. In this case, you need to identify and remove it as soon as possible. As mentioned before, you can identify threats using a legitimate malware scanner. When it comes to the removal, it all depends on the malware you find. We have added a guide that shows how to uninstall unwanted software, and, maybe, that is all you need to have '44-8000-903-274' Pop-Ups deleted. Of course, it is much more effective to install anti-malware software that can automatically disclose and eliminate all infections.
Remove unwanted applications from Windows
Windows XP
Click the Start menu button on the Taskbar.
Open the Control Panel menu.
Double-click Add or Remove Programs.
Select and Remove the undesirable program.
Windows Vista/Windows 7/Windows 8/Windows 10
Launch RUN by simultaneously tapping the keys Win+R.
Type Control Panel into the dialog box and then click OK.
Move to the Uninstall a program menu (under Programs).
Right-click and Uninstall the undesirable program.
In non-techie terms:
If you are dealing with '44-8000-903-274' Pop-Ups, you have to think about malware. Maybe some malicious infection is responsible for showcasing these misleading pop-ups? When it comes to them, you have to be alert whenever you see a warning suggesting to call '44-8000-903-274.' This helpline number is bogus, and it was set up by schemers to help them approach and scam gullible users. We recommend scanning your operating system first to see if malware has invaded your operating system. Obviously, if it has, you must remove it timely. In case malware is not detected, and you do not need to do anything to delete '44-8000-903-274' Pop-Ups, remember to be cautious. When scary and suspicious warnings show up, ALWAYS do your research to ensure that malicious parties cannot scam you.