Do you know what 3442516480@qq.com Ransomware is?
One might think that 3442516480@qq.com Ransomware is some new infection that will show us something unbelievable. But no, it is actually a ransomware program from a well-known malware family, and it brings us nothing new. In fact, instead of sitting and moping in front of our screens, we need to scramble to remove 3442516480@qq.com Ransomware from our systems as soon as possible.
Sure, getting infected with malware isn't the best feeling in the world, but that is not the end. We just need to learn more and protect ourselves from similar intruders in the future.
What can we do to prevent the likes of 3442516480@qq.com Ransomware from entering our systems again? Well, we need to understand that ransomware infections rely on our negligence to slither into our computers. No one would ever want to get infected with malware, right? And yet, so many users manage to get infected with ransomware because they are not careful enough.
Ransomware usually travels in spam email attachments, and those attachments tend to look like reliable document files. But why would someone you don't know send you something important? Unless, of course, you have been waiting for that email for a while. However, even so, you should still consider scanning that file with a security program before you open it. Just imagine, how many ransomware infections could be prevented if only users scanned their files! Then, we surely wouldn't need to deal with 3442516480@qq.com Ransomware and all the other infections from the same group.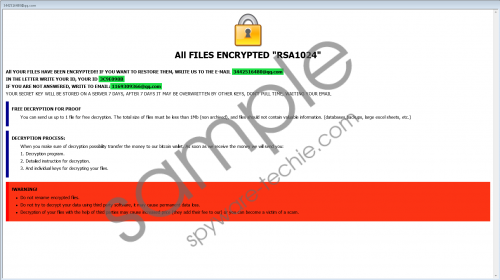 3442516480@qq.com Ransomware screenshot
Scroll down for full removal instructions
Speaking of which, 3442516480@qq.com Ransomware belongs to the Crysis or Dharma Ransomware family. If it is not your first time dealing with a ransomware infection, the chances are that you have already heard about this family of malicious threats. As such, 3442516480@qq.com Ransomware is practically identical to Save Ransomware, Asus Ransomware, Wiki Ransomware, and many others.
The fact that this program comes from a well-established ransomware family may suggest that a public decryption tool MIGHT be available. However, we shouldn't put all of your money into one bag because there is no guarantee that software developers can keep up with the demand for decryption tools.
On the OTHER hand, it also doesn't mean that you should do whatever the criminals behind this infection tell you to do. Of course, they want you to pay the ransom fee for the supposedly individual decryption key that they would issue for you. This is what they tell you in the message you see once the file encryption is complete:
ALL YOUR FILES HAVE BEEN ENCRYPTED!!! IF YOU WANT TO RESTORE THEM, WRITE US TO THE E-MAIL 3442516480@qq.com
IN THE LETTER WRITE YOUR ID, YOUR ID [MALWARE ID]
IF YOU ARE NOT ANSWERED, WRITE TO EMAIL: 1169309366@qq.com
YOUR SECRET KEY WILL BE STORED ON A SERVER 7 DAYS, AFTER 7 DAYS IT MAY BE OVERWRITTEN BY OTHER KEYES, DON'T PULL TIME, WAITING YOUR EMAIL
As you can see, the infection also gives a limited time offer. It makes the victim think that if they don't contact these criminals, they will lose their files for good.
The truth is that you might lose your files either way because no one can guarantee that these crooks will issue the decryption key in the first place. Also, the best way to restore your files is not the decryption key that these criminals are supposed to offer. It's a file backup. So, if you have copies of your files saved somewhere on an external hard drive or a cloud storage drive, you can just remove the encrypted files along with the infection, and transfer the healthy copies back into your system.
Manual malware removal isn't that complicated, but if you do not think that you can perform it on your own, please be sure to invest in a powerful security tool that would terminate the infection automatically. This security tool of your choice could also help you remove other potential threats from your system. Not to mention that you have to safeguard your system against other infections, too.
Finally, do not hesitate to educate yourself about the latest trends in the cybersecurity world. We rely on security tools a lot, but at the end of the day, it's our habits that protect us.
How to Remove 3442516480@qq.com Ransomware
Remove the random file that launched the infection.
Delete the RETURN FILES.txt ransom note file.
Press Win+R and type %APPDATA%. Click OK.
Remove the Info.hta file from the directory.
Go to Microsoft\Windows\Start Menu\Programs\Startup.
Delete the Info.hta file and a random EXE format file from the folder.
Run a full system scan with SpyHunter.
In non-techie terms:
The most important thing is to remove 3442516480@qq.com Ransomware from your computer. Although removing the ransomware does not automatically restore your files, you should not allow this infection to remain on your computer any longer. Finally, do not forget to invest in computer security and also maybe a cloud service, where you could regularly back up your files. When there's no decryption tool available, a file backup is really your best option out there.