Do you know what 2netvl.ru is?
At first 2netvl.ru might seem like a rather annoying search engine, but as you continue reading the article, you will learn it could be potentially harmful as well. According to our researchers who tested the application in our internal lab, the program acts as a browser hijacker. It means 2netvl.ru could modify specific browser settings once it enters the system. Another thing we should mention is that the search engine may provide the user with questionable advertisements from the software's third-party associates. These ads might not only disturb user's browsing but also lead him to websites distributing other potentially dangerous programs, malware, and so on. For more information about the hijacker and its displayed content, we urge you to read the rest of this text, although if you only want to delete the threat, you could slide and use the removal guide placed below the article.
2netvl.ru uses a popular Russian search engine called Yandex. Thus, it is most likely more popular among users who speak the Russian language. Consequently, our researchers believe the application should be distributed with other questionable software developed by Russian creators. The programs this browser hijacker might be distributed with could be unreliable add-ons, potentially unwanted applications, suspicious toolbars, adware, etc. You may come across these threats while using malicious file-sharing websites where such programs could be bundled with one another. In other words, you may avoid browser hijackers like 2netvl.ru or other threats in the future, by downloading installation files from legitimate web pages or other reliable sources.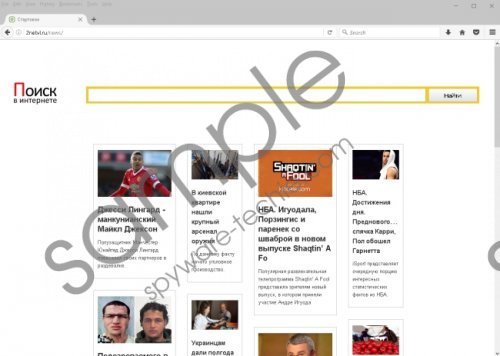 2netvl.ru screenshot
Scroll down for full removal instructions
Moreover, it is also important to know that the search engine works only on Google Chrome browsers. It might affect them by settings 2netvl.ru as user's default search engine, start page, or new tab page. As a result, your Google Chrome may start loading the website on various occasions. In fact, our researchers found out that the application can create Scheduler tasks to launch the browser without your permission. These automatically launched windows could load potentially harmful third-party web pages, so we advise you to be extra cautious with them. For instance, the application may load websites offering freebies, coupons, or fictitious lottery tickets in exchange of their private information. The data you submit on unreliable sites could be later used without your permission. Therefore, it might be best not to interact with such ads and quickly close them.
What's more, the software's redirection and displayed advertisements might also lead you to web pages promoting installers of potentially harmful software, e.g., adware, potentially unwanted programs, or other browser hijackers. In the worst case scenario, you could be redirected to sites created for malicious reasons, for instance, to infect users' computers with harmful applications, such as ransomware, worms, viruses, and others. Instead of continuing using the search engine and avoiding interaction with these irritating ads our researchers recommend erasing the browser hijacker. After all, you can easily replace it with a reputable search engine.
To get rid of 2netvl.ru manually, you would have to reset the affected browser, delete any suspicious extensions you may have installed recently and erase particular data belonging to the hijacker. If this seems too complicated for you or you do not want to waste any time, we should mention that the application can be eliminated with the help of a reliable antimalware tool. Users could install our recommended tool and perform a full system, scan with it. Afterward, it should display a report listing all detected threats, which you could delete by pressing the provided removal button.
Eliminate 2netvl.ru
Press Windows Key+E.
Navigate to C:\Windows\system32\tasks
Select a file titled as InternetED and press Shift+Delete.
Exit the Explorer.
Erase questionable extensions
Tap ALT+F.
Press Settings then click More tools.
Locate recently downloaded suspicious extensions.
Select them separately and press the trash bin button.
Press Remove.
Reset the browser
Press Alt+F.
Go to Settings and scroll below.
Pick Show advanced settings and slide down.
Click Reset Settings and select Reset.
In non-techie terms:
2netvl.ru is most likely targeted at users who speak the Russian language since it uses a search engine known as Yandex. Our researchers recommend eliminating the browser hijacker as soon as possible because it could show you irritating pop-ups, banners, sponsored links, and other third-party advertisements that could be potentially harmful too. If you do not want to see such content while surfing the Internet, erase the application manually according to our removal guide located above or with a reputable security tool of your choice.