Do you know what 22Apple is?
22Apple is a website that provides instant access to a list of popular pages such as Facebook, Twitter, Yahoo!, YouTube and so on. In a sense, it functions just as 22Find. It is possible to presuppose that both websites are related because they share almost identical interface. The difference between their home pages (22find.com and 22apple.com) is that 22Find provides browser extension removal instructions and 22Apple does not. The clear things is that 22Apple is not a computer virus, although users should be careful about utilizing this website and browser extension that comes with it, because it might be engaged in collecting personal data and then using it for marketing purposes.
Another thing that could make you suspicious of 22Apple is the fact that its home page does not provide the download link for the application. If you see this website pop up into your browser and you don't remember having installed it, it means that 22Apple was installed and downloaded with another free software program. Bundled downloads is the most common way for 22Apple to get installed on your PC.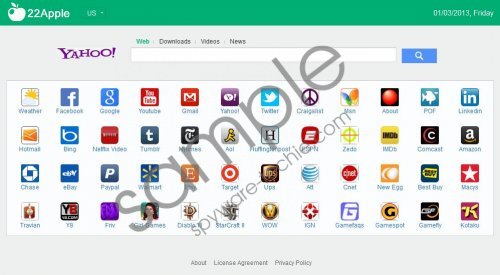 22Apple screenshot
Scroll down for full removal instructions
On the surface 22Apple looks harmless. And it is true that it is not a computer virus. However, it could easily display commercial advertisements, and collect your Internet browsing data, in order to direct pop-up ads that are tailored to your likes and preferences. What is more, things like 22Apple are often vulnerable to third-party exploitation. Thus, it can display advertisements with embedded links to corrupted websites, contributing to malware distribution process.
Nevertheless, some users might find 22Apple useful, with all the shortcuts to frequently visited websites. Yet, if you want to remove 22Apple from your computer and restore your default browser setting, follow the instructions below:
Remove 22Apple from Internet Explorer
Press and hold Alt and press X. Click Manage add-ons.
Click Search Providers on the left pane and remove 22apple.com.
Exit the menu and press and hold Alt+X again.
Go to Internet Options and click General tab.
Remove 22apple.com from home page section.
Enter a new home page address and click OK. Close the browser.
Right-click Internet Explorer shortcut and select Properties.
Go to Shortcut tab.
Leave only "C:\Program Files\Internet Explorer\iexplore.exe" at Target line.
Click OK to save changes.
Remove 22Apple from Mozilla Firefox
Press and hold Ctrl+Shift+A one after another.
When Add-ons Manager tab opens, remove 22Apple from Extensions.
Click search icon on the left of the search bar (top right corner).
Click Manage Search Engines and remove 22Apple.
Set a new default search engine. Click OK.
Click Firefox button and select Options.
Remove 22Apple from home page section under General tab.
Type in a new home page and press OK. Close the browser.
Right-click Mozilla Firefox shortcut.
Click Properties and open Shortcut tab.
At Target leave only "C:\Program Files\Mozilla Firefox\firefox.exe".
Click OK and close the menu.
Remove 22Apple from Google Chrome
Press Alt+F.
Go to Tools --> Extensions.
Choose Open a specific page or set of pages. Select Set pages.
Delete 22Apple and enter a new home page address. Click OK.
Click Manage search engines under Search.
Remove 22Apple and set a new default search page and click OK. Close the browser.
Right-click Google Chrome shortcut icon.
Select Properties and click Shortcut tab.
At Target leave only "C:\Program Files\Google\Chrome\Application\chrome.exe".
Click OK and close the menu.
If you still have problems with 22Apple even after manual removal, then you should scan your system with SpyHunter. It is possible that your computer is infected and it does not allow you to remove 22Apple properly. Acquire a reliable antimalware tool if necessary to make sure that your system is safeguarded against various threats.
In non-techie terms:
22Apple is a website that has a browser extension. This website changes your home page to its own and displays commercial ads. Due to its intrusive nature 22Apple is a potentially unwanted program and it would be for the best to remove 22Apple from your PC for good, if you do not use it daily.
Aliases: 22apple.com.