Do you know what 1startpage.com is?
1startpage.com is a browser hijacker that arrives at your computer bundled with freeware. Users often have the opportunity to avoid installing this program on their computers, but they simply miss it because they go through freeware installation process automatically. If you do not want to waste your precious time removing 1startpage.com from your system, please be more attentive when you install new programs. It would even better if you stayed away from suspicious third-party file hosting webpages that might be distributing unreliable software. Your computer security should be your utmost priority.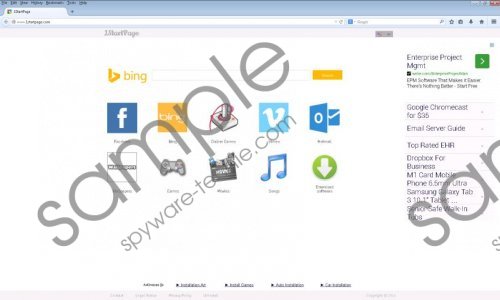 1startpage.com screenshot
Scroll down for full removal instructions
Our lab's research team says that 1startpage.com usually comes together with download assistant by Malavida. Also, whenever you initiate the installation process for any program downloaded via Malavida download assistant, you are also presented with one installation wizard step that reads as follows:
Establish 1startpage as my home page

1startpage is a home page conceived to simplify the user's searching and browsing experience.
It means that, despite the fact that 1startpage.com is a browser hijacker, users can still choose whether they want to have it on their computers or not. In other words, if your browser settings have changed you most probably gave your permission for the change yourself.
1startpage.com affects all main browsers, including Internet Explorer, Mozilla Firefox and Google Chrome. When it changes your default homepage, you will notice that 1startpage.com also provides you with shortcuts to such popular websites as Facebook, Bing, Hotmail, Vimeo and a collection of sites for Online Games, Songs, Wallpapers and so on. It certainly makes an impression that 1startpage.com can improve your web browsing experience, but please pay attention to the fact that this browser hijacker also displays a lot of third party commercial advertisements on the right pane.
Also, we could probably say that apart from the aforementioned shortcuts there is nothing special about 1startpage.com, especially as it does not have an original search engine. It simply makes use of a customized version of Bing search engine. To be honest, you might as well keep a bookmark tab on your browser and use Bing directly than perform a web search through a third party. After all, 1startpage.com could expose you to potentially corrupted websites. Cyber criminals often exploit browser hijackers to promote their dangerous content because browser hijackers are very vulnerable to third party exploitations.
Therefore, you have to remove 1startpage.com and all the other related applications from your system as soon as possible. Scan your system with SpyHunter free scanner to determine which programs must be deleted from the PC, and then restore your browser settings manually. For any further questions, do not hesitate to leave us a comment.
How to remove 1startpage.com from browser
Internet Explorer
Press Alt+T and click Internet options.
Click Use default button under General tab and click OK.
Press Alt+T and go to Manage add-ons.
Click Search providers on the left pane.
Set a new default search engine and remove 1startpage. Click Close.
Mozilla Firefox
Click the search engine icon on the left of Firefox search box.
Select Manage search engines on drop-down menu.
Remove 1startpage from the list and click OK.
Press Alt+T and click Options.
Press Restore to Default button under General tab and click OK.
Google Chrome
Press Alt+F and go to Settings.
Under On Startup, mark Open a specific page or set of pages.
Click Set pages, remove 1startpage.com and enter a new homepage address. Click OK.
Manage search engines under Search.
Set a new default search engine, delete 1startpage and click Done.
If you are not sure whether you have removed all the potential threats, you can also refer to the secondary set of manual removal instructions below this description. There are several ways to ensure your system's security, so you should try out them all.
In non-techie terms:
1startpage.com is a website that is set as your default homepage when you get infected with a browser hijacker. You need to remove all dangerous programs from your computer and restore your browser settings to avoid data theft and serious computer system failure.