Do you know what 1ClickMovie is?
Even if you are searching for an application to download movies for a long time, we still do not recommend installing 1ClickMovie, which offers to help you download different videos easily and quickly. Its promises might definitely seem attractive; however, you should know that this program is just a simple advertising-supported application; thus, it would be too naive to believe that it might somehow act for your own benefit. As you have probably understood, you are going to see different kinds of commercial ads after the installation of this program and it does not even matter which browser you use. Thus, it is very likely that you will only experience inconvenience, which is why it is important to get rid of 1ClickMovie as soon as possible.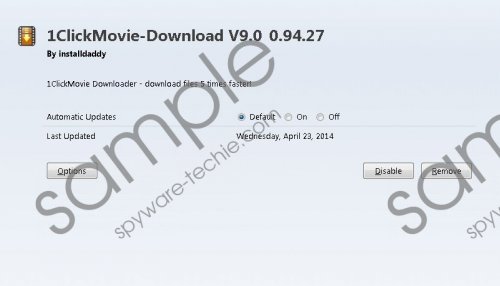 1ClickMovie screenshot
Scroll down for full removal instructions
It does not really matter whether you install 1ClickMovie-Download V9.0, V6, V7 or any other version; it has been found that all of them are the same. It means that you will just see different kinds of advertisements instead of being able to download movies as promised. The fact that all these advertisements are very annoying is not the worst thing; our security specialists have carried out a research and found out that you might be even taken to corrupted websites where you might infect the system with malicious software very quickly. We believe that you want to protect your system, which is why you will probably agree to delete 1ClickMovie in order to stop ads from appearing.
Even though 1ClickMovie has its official website, it is very likely that this adware has entered your system bundled with other additional applications. Our specialists believe that the most typical programs that come together with 1ClickMovie are Jollywallet and WebSpades. Do you want to avoid different kinds of threats in the future? Thus, you should always select Custom installation. In addition, it is very important to read the information that is provided for you in the setup wizard and thus complete the installation extremely carefully.
If you have not been able to protect your system from undesirable programs and now have this 1ClickMovie on your system, you should better get rid of it entirely using the instructions that we have provided for you below. If you do so, you will be able to avoid security-related problems. Do not forget to acquire a reliable security tool like SpyHunter in order to block the way for different unwanted programs in the future.
The removal of 1ClickMovie
Windows XP
Open the Start menu.
Select Control Panel.
Click Add or Remove Programs.
Select the undesirable software and click Remove.
Windows 7 and Vista
Click the Start button.
Select Control Panel.
Click Uninstall a program.
Right-click on the unwanted application.
Click Uninstall.
Windows 8
Tap the Windows key and then Right-click on the background of the Metro UI.
Select All apps.
Locate Control Panel and then select it.
Click Uninstall a program.
Right-click on the 1ClickMovie and then delete it.
In non-techie terms:
As 1ClickMovie might come bundled with other additional applications, you should know that they will not disappear after the removal of this adware and still might stay on the system. In order to avoid different undesirable activities that they might cause, you should definitely remove all those additional programs as well. As it is not an easy task to detect them, you can scan your system with a free SpyHunter scanner and find out which files are infected.