Do you know what 1800-935-6918 Driver_irql_not_les_or_equal is?
1800-935-6918 Driver_irql_not_les_or_equal is a fake alert designed by malware developers so they could profit illegally from unsuspecting Internet users. If you ever notice this bogus warning message, make sure to take immediate action to get rid of it as soon as possible. It is important to do so because this fake alert is known to block your user interface; thus making your computer virtually unusable. It goes without saying that such functionality must not be tolerated. To find out where the fake alert in question comes from and how it functions, be sure to read the rest of this article. In addition to such imperative information, we present a detailed removal guide crafted by malware experts at Spyware-Techie.com that will allow you to delete 1800-935-6918 Driver_irql_not_les_or_equal in a quick and easy manner.
During the investigation of 1800-935-6918 Driver_irql_not_les_or_equal malware experts at Spyware-Techie.com have discovered that in quite a few cases this dubious application is spread in intrusive ways. You can safeguard your PC from such virtual threats by taking a few precautionary steps to improve your overall virtual security. It well-known that invasive programs are usually spread via bundled installers, which are notorious for being used by malware developers to distribute their suspicious software. To bypass suspicious setup files that might host devious programs you need to refrain yourself from unauthorized download web pages. You can decrease chances of infecting your computer with a suspicious installer by obtaining all of your software from legitimate vendors' websites only. You can also improve your virtual security by taking your time with each setup procedure since you could be presented with an opportunity to cancel the installation of some undesirable program. Lastly, but most importantly our research team highly recommends installing a professional antimalware tool if you don't have one already. Such a tool should be active at all times since it can detect and warn you in advanced about any suspicious application.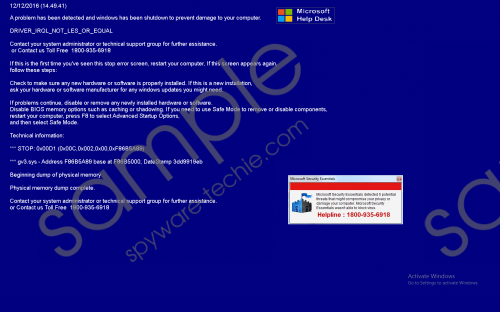 1800-935-6918 Driver_irql_not_les_or_equal screenshot
Scroll down for full removal instructions
As soon as 1800-935-6918 Driver_irql_not_les_or_equal enters your operating system, it will immediately create a registry value that will automatically launch this intrusive program upon each system start-up. The most annoying and frustrating feature of this fake alert is the fact that it will block the user interface, meaning that your PC will be virtually unusable for as long as it is fully active on your personal computer. Usually, the fake warning informs that the computer's malfunction is a direct consequence of errors within the operating system. To fool naive internet users cyber crooks that developed this warning message use manipulative design. The lert is created to mimic the looks of a well-known Windows error message called the Blue Screen of Death. In addition to that, our research team has discovered that developers of malware use legitimate Windows error codes to further trick unsuspecting Internet users. While all of this might seem quite convincing, you must know that, in reality, there is nothing wrong with your computer. Even though you are asked to call for further assistance, make sure not to do so under any circumstances as it is nothing more than a scam used by this fake alert's developers to trick you into paying for a repair service that you do not need. It should be more than obvious that 1800-935-6918 Driver_irql_not_les_or_equal is a program that you should never have active on your personal computer. Make use of the detailed removal guide to terminate this fake alert once and for all.
It goes without saying that a removal of 1800-935-6918 Driver_irql_not_les_or_equal must be executed without any hesitation. To regain full access to your PC and to stop this fake alert's functionality entirely, you must terminate everything linked to it. This is important since traces might prove to be enough for it to continue its invasive functionality. In order to be sure that the whole removal procedure has been successful and 1800-935-6918 Driver_irql_not_les_or_equal is no longer active in any way, you need to execute an in-depth analysis of your computer. If you happen to come across leftovers linked to this intrusive application, do not hesitate to remove it.
How to remove 1800-935-6918 Driver_irql_not_les_or_equal from your computer
Reboot your PC into Safe Mode with Networking.
Open the File Explorer.
Navigate to C:\Users\<your username>\Downloads.
Locate a file called bsodc23x1.exe then select and remove it.
Make sure to Empty Recycle Bin.
Click the Windows button.
Type regedit into the search box and select it.
Go to HKEY_CURRENT_USER\Software\Microsoft\Windows NT\CurrentVersion\Winlogon.
Right-click a registry value called Shell and select delete it.
In non-techie terms:
If you are a non-advanced user that does not feel conformable enough to execute the manual removal and your analysis of your PC, do not worry. Malware researchers working at our internal labs have crafted an alternative removal guide. The instructions that we present below will help you delete 1800-935-6918 Driver_irql_not_les_or_equal in an automated manner.