Do you know what (13) Viruses have been detected on system fake alert is?
(13) Viruses have been detected on system fake alert is a treat that informs the user about fictitious malware detections on the computer. The message could offer you to fix the problem by downloading an antimalware tool through the available link. Unfortunately, if you press the download link you might receive a malicious program instead of a security tool. Naturally, under such circumstances, we advise you not to waste any time with this threat and get rid of the software that causes the false alert to appear. To complete this task successfully, you could either download an actual antimalware tool created by a reputable company or slide a little below the text and try to erase it manually while taking a look at the removal guide.
As you continue reading the article, we will talk more about the fake alert, but for starters we would like to explain to you how this threat could be distributed. Our researchers believe it might be traveling with malicious pop-up advertisements or displayed through redirections. Both the pop-ups and redirections could be shown to the user by an unreliable program installed on the computer. For example, it might be a recently installed adware application. (13) Viruses have been detected on system false alert may also show up after downloading a malicious executable file. Thus, firstly you have to remember your latest downloads and installs to understand how you may have allowed the threat to settle on the system. The next step would be to decide how to erase the unreliable program showing the message.
The fake alert is easily identifiable since on the top it should show the Google logo and a little lower, but above the message there should be the following title: "(13) Viruses have been detected on system!" The message itself is carefully written to scare the user and convince him to press the download button ("Download Antivirus"). For starters, it warns about a particular amount or malicious applications detected on the computer as it says there are "(13) viruses." Then it tries to convince users that they have to take care of these threats fast or they could harm the computer and might even cause total data loss. Afterward, the false alert gives instructions on how to download antimalware software or to be more precise "a certified Microsoft Antivirus."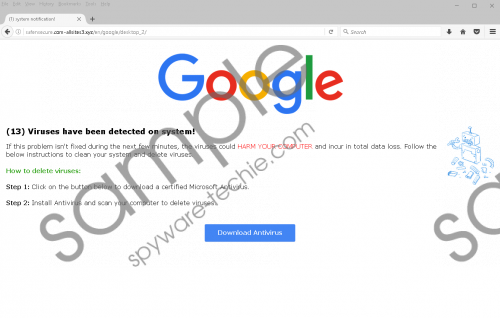 (13) Viruses have been detected on system fake alert screenshot
Scroll down for full removal instructions
We strongly advise users not to fall for this fake alert and most importantly do not click the provided download button. If you interact with it, you may end up downloading and installing a malicious application. In other words, this time you could really end up having malware on the system. Even though the button did not work at the moment our researchers were testing the threat, (13) Viruses have been detected on system fake alert might still be in the development stage, so sooner or later the button might be fixed.
If you do not want to see (13) Viruses have been detected on system fake alert ever again or encounter other possible threats we would advise you to check the system and eliminate the software which might be showing such suspicious pop-ups or redirecting you to malicious web pages. Since we cannot name a specific application causing the alert, the removal guide cannot be more accurate as well. It can only tell you how to uninstall unwanted programs like adware or how to delete suspicious executable files from most usual download locations on the computer. On the other hand, getting a legitimate antimalware tool might be a less complicated way to deal with possible threats. After all, it can scan all data on the computer. As a result, it could help you get rid of multiple detections and clean the system from potentially dangerous files or software.
Eliminate (13) Viruses have been detected on system fake alert
Windows 8 & Windows 10
Open the RUN by pressing Windows Key+R.
Insert Control Panel and click OK.
Click Uninstall a program.
Locate the suspicious application, select it and press Uninstall.
Windows Vista & Windows 7
Click the Start menu and press Control Panel.
Choose Uninstall a program.
Mark the program and click Uninstall.
Windows XP
Open Start and choose Control Panel.
Press Add or Remove Programs.
Select the application and click Uninstall.
Delete suspicious executable files possibly related to the fake alert
Go to the Desktop, Downloads, Temporary Files, and other directories where such files might have been saved.
Select the malicious executable file and press Shift+Delete.
In non-techie terms:
(13) Viruses have been detected on system fake alert is a message that might try to convince the user to install a malicious application. Your browser could instantly redirect you to a website with the false message if you downloaded a malicious executable file or installed suspicious software, e.g. adware. Therefore, once the threat shows up, it is important to find out how it managed to enter the system and eliminate the potentially dangerous software that might be causing the redirections. Probably, the easier way would be to use a reliable antimalware tool, but if you have experience in these matters you could try to identify threats while following the removal guide placed above.