Do you know what 12kotov.ru is?
12kotov.ru may show up in your browsers after visiting questionable Russian P2P websites. This browser hijacker targets Russian speaking countries and very similar to other well-known Russian hijackers, such as Workno.ru and Smartinf.ru. This malware infection can infiltrate your system without your noticing it and set itself as your new home page in the affected browsers. This is an obvious breach of your privacy for starters, one which you should not take lightly. This questionable search page may introduce you to unreliable web content through third-party ads and its search results as well. Since it most likely enters your computer with a number of other malware threats, you could be facing multiple system security issues. If you want to restore your virtual security, you should remove 12kotov.ru right away and make sure that you detect and eliminate all other potentially harmful programs as well. Please continue reading our report for further details.
Our researchers have found that this browser hijacker is most popular in Russia, the Ukraine, Azerbaijan, Belarus, and Kazakhstan. It mostly spreads via fake installers from Russian P2P sites. This means that you may visit such a page to download a free file (music or video) or program and you could be exposed to third-party banner and pop-up advertisements that claim that you must update your browser, your Java or Flash driver in order to see certain content or to provide security. But it is important to remember that you should always and only update software from official sources. So when you are viewing a questionable file-sharing site and a banner or pop-up tells you to update, you should ignore such obvious tricks.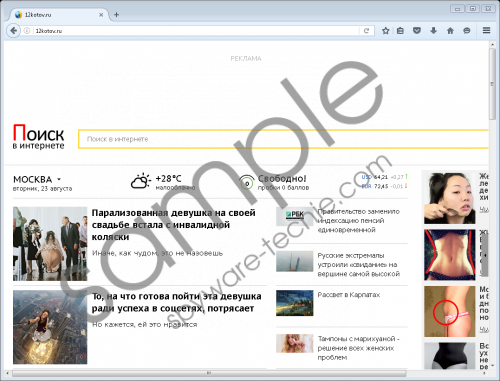 12kotov.ru screenshot
Scroll down for full removal instructions
Another way for 12kotov.ru to show up on your computer is via various Trojans created for the Russian market. These Trojans can be activated by downloading and opening malicious file attachments from spam e-mails or visiting malicious websites using Exploit Kits to drop infections onto your computer. This clearly shows that you should be more careful with opening mails in your inbox and running attachments as well as you should always keep your browsers and your drivers up-to-date to unable Exploit Kits to drop malicious threats. According to our researchers, this browser hijacker always comes with other infections on board, including Amigo browser, Mail.ru, and Torrent Search. This means that your system could be infected with a number of browser hijackers, adware programs, and potentially unwanted programs, too. Therefore, we suggest that you run a reliable online malware scanner to identify all related and unrelated threats right after you delete 12kotov.ru.
This hijacker is quite persistent and wants you to be exposed to its content every time you reboot your system. Therefore, it sets a Run registry value so when your Windows starts up, a browser window will also launch automatically and load 12kotov.ru. It also creates a shortcut called "Вoйти в Интeрнет.lnk" on your desktop. This Russian search page offers you all kinds of articles apart from the main search box as well as some third-party commercials. It is important to know about third-party content that it could come from unreviewed and potentially unreliable source. In other words, cyber criminals may embed their corrupt links in the pages provided by this hijacker and take you to malicious websites when you click on them. This infection redirects all your searches to a third-party search engine called nova.rambler.ru. It is possible that this hijacker may manipulate the search results to promote affiliated websites through advertisements and sponsored links. However, you cannot trust such content fully because of the aforementioned reason. Clicking on potentially unreliable content may end badly for you. It is possible that you let more infections onto your system, get scammed by criminals, and you could lose money, too. If you want to make sure your computer is safe for you to use, you should not hesitate to delete 12kotov.ru.
If you are ready to act, we can offer you manual removal instructions below. Please follow these step by step and this threat should be over soon. If you do not want to use the manual method and would trust an automated tool better, we advise you to download and install a professional anti-malware application, such as SpyHunter. Since this is most likely not the only infection on your system, using a security tool is really the best solution to make sure that your system is properly clean. But even if you install such a tool, you should always keep all your programs and drivers up-to-date from official sources to prevent cyber criminals to take advantage of outdated bugs and security holes.
Remove 12kotov.ru from Windows
Remove the shortcut "Вoйти в Интeрнет.lnk" from your desktop.
Press Win+R and type regedit in the box. Click OK.
Remove "HKEY_CURRENT_USER\Software\Microsoft\Windows\CurrentVersion\Run\hhghiiuvry" where "hhghiiuvry" is a random name and has a value data similar to "explorer "http://tsirangi.ru/?utm_source=uoua03&utm_content=2e72712b545d0efe2908148565844358&utm_term=00B75174C16943B6E4DA39B994D185FA&utm_d=20160823"" where the website could also be nurili.ru, mwiremo.ru, or any of the sites that redirect to 12kotov.ru.
Close the editor.
Remove 12kotov.ru from browsers
Mozilla Firefox
Press Alt+H and open Troubleshooting Information.
Press Refresh Firefox
Click Refresh Firefox in the pop-up window.
Press Finish.
Google Chrome
Press Alt+F and access Settings.
Scroll down and click Show advanced settings.
Scroll down again and click Reset settings.
Press Reset in the pop-up window.
Internet Explorer
Press Alt+T and go to Internet Options.
Select the Advanced tab, click Reset.
Mark the Delete personal settings checkbox.
Press Reset and click Close.
In non-techie terms:
12kotov.ru is an annoying browser hijacker that can affect the three major browsers, including Internet Explorer, Mozilla Firefox, and Google Chrome. This hijacker mainly targets Russian speaking countries, such as Russia, the Ukraine, and Azerbaijan. Not only does it hijack your browser home page, but this infection also sets itself in the Windows registry to start up automatically with the system whenever you restart your Windows. You should know that this search page contains potentially unreliable third-party ads and its search engine could also display modified search results, which could pose a threat to your virtual security. In addition, this browser hijacker comes with a couple of adware programs, hijackers as well as potentially unwanted programs that can put your system security at risk. If you want to protect your computer, your privacy, and your files, you should remove 12kotov.ru right now along with all related malware programs. The best way to defend your system from all known malicious attacks is to install a reliable anti-malware program.