Do you know what 123.sogou.com is?
123.sogou.com is certainly bad news if it comes up as your new home page when you launch your Internet Explorer browser because it signals the presence of a browser hijacker. According to our research team, this browser hijacker mainly affects Internet Explorer and targets Chinese computer users. As a matter of fact, this search engine is also Chinese, but that does not mean you are safe if you are in the States, for example. Since this hijacker can spread all over the Internet using software bundles, there is really no boundaries. While this search engine itself may not be a dangerous infection, it is possible that it sneaks onto your operating system together with other infections. That could cause serious harm to your computer if you do not address this situation and the malware threats involved. We recommend that you start with removing 123.sogou.com from your browser and go on to identify the other threats so that you can restore your virtual security.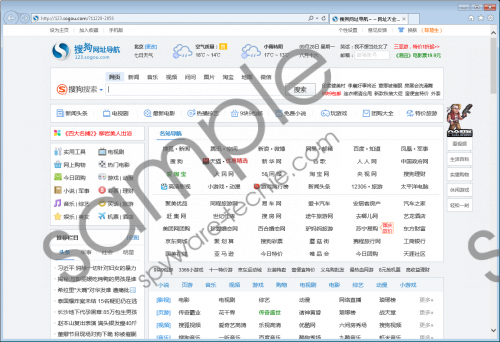 123.sogou.com screenshot
Scroll down for full removal instructions
When this search engine shows up in your IE without your knowledge, it is a clear sign of browser hijacking, which should not be taken lightly. Imagine that your privacy has just been breached. An application has made arbitrary changes to your browser. So who is the boss here? We strongly believe that us, computer users should be in control of our machines. Therefore, we do not turn a blind eye on applications feeling free to make changes on our computers; because what comes next? You do not want to find out. You are better off deleting 123.sogou.com before more serious problems start to emerge.
For example, what if this search engine promotes all kinds of third-party websites and services? Since all the site is in Chinese, if you do not know that language, you might click on an unreliable link and end up on an unsafe website. Search engines can also collect data about you and use this to target you with tailored third-party ads and links. Some of them may even alter the search results and insert sponsored ads among them. Cyber criminals might also exploit 123.sogou.com and expose you to unsafe content. You never know what might happen if you have a questionable tool on your computer like this one is. Most of them look useful and innocent, but underneath the cover there may be a different story. Our advice is that you should remove 123.sogou.com as soon as possible because chances are you might get more infections onto your computer or get scammed other ways.
This is probably the easiest malware infection to eliminate since it seems to only affect one browser. Fortunately, this browser hijacker is not a sophisticated one that may change even your browser shortcut Target line. Therefore, it is enough to edit the home page setting in your Internet Explorer settings. Keep in mind that this will not handle the whole infection situation as there may be other "nasties" hiding on your computer. For those, we suggest that you apply a reliable malware remover, such as SpyHunter. What could be more convenient and efficient than killing all infections with the click of a button?
123.sogou.com Removal from Browser
Internet Explorer
Tap Alt+T and go to Internet options.
On the General tab, move to the home page box and edit the URL.
Click OK.
In non-techie terms:
123.sogou.com shows up in your IE browser if your computer has been infected with a browser hijacker. This search engine may not be dangerous itself, but there is still potential that it might expose you to undesirable web content. What's more, it may enter your computer with a company of malware infections that can more seriously damage your operating system. We recommend that you delete 123.sogou.com and eliminate every other threat you may find.