Do you know what 100sOfRecipes Toolbar is?
The infamous malware developer Mindspark has returned with its newest bad toolbar called 100sOfRecipes Toolbar that we recommend that you remove. Funny enough, the name is not misleading, because it will enable you to find hundreds upon hundreds of recipes with relative ease. However, the toolbar promotes a certain search engine which is owned by the aforementioned malware developer. No matter how hard Mindspark tries to show that it makes useful toolbars it will still remain a malware developer due to its modified search engine and unnecessary toolbars, because you can just make custom bookmarks of for websites that you want and so that you would not be restricted to Mindspark's promoted websites.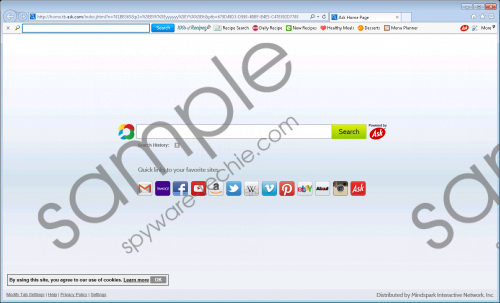 100sOfRecipes Toolbar screenshot
Scroll down for full removal instructions
Let us start from the most important aspects regarding 100sOfRecipes Toolbar. First, we will take a look at its supposed functionality. Basically, the toolbar is just a cluster of third-party bookmarks.The Recipe Search bookmark is just a re-branded Ask.com search category. Clicking on the recipes will redirect you to websites, such as Momlessmom.com, Familyfoodandtravel.com, and other food recipe websites. Note that he websites are definitely not malicious. The second bookmark is a recipe widget that is actually kind of useful. The third bookmark redirects to a website, called Mealplanning.food.com. The fourth bookmark is an Internet radio application that will enable you to listen to your favorite tunes while you browse through all of those delicious recipes. It is hardly surprising that Mindspark has also included a Facebook.com bookmark just in case you have not made it yourself already.
The toolbar comes with a promoted search engine. You might think that it is just the Ask.com search engine with a custom page design, but in fact, it is a customized version of Ask.com that is managed and run a Mindspark. The main purpose of this search engine is to enable this company to collect information about you and inject commercial advertisements and sponsored links into the search results. That is how Mindspark and its affiliates make money. MindSparks Privacy policy states that "Advertisers and advertising networks place ads (including sponsored links in search results) on our site and in our mobile applications. These companies may collect information, such as your computer's IP address, browser information, mobile device ID, and search queries, as you use our Website and Services." Mindspark also gathers the aforementioned information and even extends it to Technical information about your computer or mobile device such as type of device, your preferences and settings, Internet provider or mobile carrier name, and so on.
The full name of this toolbar's developer is Mindspark Interactive Network, Inc. The name sounds as if it belongs to a very successful software developer, but that is not true. This company has been rolling out bad toolbars for years. Some of its most recent releases include SMSFromBrowser Toolbar, DownloadManagerTool Toolbar, MergeDocsOnline Toolbar, and FreeRadioCast Toolbar. These toolbars are basically bookmarks to third-party websites and have nothing unique to offer. All of the aforementioned toolbars have dedicated download websites. And in the case of 100sOfRecipes Toolbar, it is featured on 100sofrecipes.com. But it can also be found bundled with freeware as well.
Now that you know what 100sofrecipes.com is, what are you going to do about it? Let us recap on what has been said in this article. 100sOfRecipes Toolbar has been developed by a known malware developer. The application has arguably useful, even though it has some nice features. The Mindspark injects ads and collects information if you use the search engine that comes with the toolbar. All things considered, we recommend that you remove 100sOfRecipes Toolbar in a timely manner.
Remove 100sOfRecipes Toolbar from the computer
Windows 8/Windows 8.1
Open the Charm bar and click Settings.
Go to the Control Panel.
Click Uninstall a program.
Find 100sOfRecipes Toolbar.
Right-click on it and click Uninstall.
Windows 7/ Windows Vista
Open the Start Menu and open the Control Panel.
Click Uninstall a program.
Find 100sOfRecipes Toolbar and right-click on it.
Click Uninstall.
Windows XP
Open the Start menu and open the Control Panel.
Click Add or Remove Programs.
Find 100sOfRecipes Toolbar.
Click Remove.
Remove the 100sOfRecipes Toolbar browser extension
Google Chrome
Press Alt+F.
Open More tools and select Extensions.
Click Remove the toolbar.
Press Alt+F again.
Find the On Startup list and select Set pages.
Change the homepage address and click OK.
Internet Explorer
Press Alt+X.
Choose Manage Add-ons.
Click Toolbars and Extensions.
Click Remove the unwanted toolbar.
Click Close.
Press Alt+T and click Internet Options.
Change the homepage address.
Click OK.
Mozilla Firefox
Press Ctrl+Shift+A and select Extensions.
Click Remove the extension.
Press Alt+T and click Options.
Change the homepage address.
In non-techie terms:
100sOfRecipes Toolbar is considered a bad toolbar, because it has been developed by an unreliable malware developer known as MindSpark. This application is tailored for people that like to cook and features plenty of websites that feature food recipes. However, the price for having these recipes is being subjected to ads, provided that you use the promote search engine, and information gathering. So if you do not approve such activities, then you ought to remove this program.