Do you know what Zorable is?
Zorable definitely has nothing to do with Zorro, even though this application does use a "mask" and pretends to be something other than what it really is, i.e., a worthless ad-supported program. As such, it might hold potential risk for you to land on unreliable websites by clicking on the ads it fills your computer screen with. These ads can also be rather annoying, but believe us when we tell you that the disruption of your web surfing routine will be the least of your worries when you have this adware on-board. Also, it is quite possible that there are other malware threats on your computer that may be endangering the health of your system. These could have come in the same freeware bundle as Zorable. Our researchers' advice is that you should remove Zorable if you want keep your system protected from the potential risks.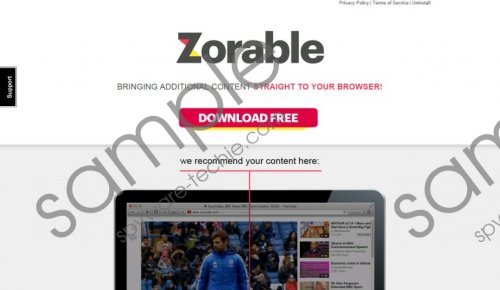 Zorable screenshot
Scroll down for full removal instructions
Zorable is a browser add-on that is supposed to "boost your surfing experience" by displaying a scrollable bar at the bottom of your screen that shows thumbnails of the most relevant articles, videos, and more. As a matter of fact, this function may not even work. Instead, this app might litter your screen with potentially harmful advertisements. If you are a somewhat experienced computer user, you may already know that third-party advertisements should not be trusted. The main reason is that most of the time the creators of adware applications do not take any responsibility for the third-party content you may be exposed to by clicking on these ads. They usually do not even review the third parties, so it is possible that even cyber criminals may display corrupted ads for you through this adware. Your virtual nightmare might be a single click away. Once you click on an infected link, you might end up on a malicious website, and that may have unfortunate consequences. Deleting Zorable can help you avoid such unfavorable encounters.
Zorable is available for download from its official page, zorable.com, but it would be closer to the truth if we said that there are two download buttons available, which, in fact, do not work. That is rather questionable behavior if you think about it. But, to be honest, we do not think that a lot of people get this application onto their computers via this website. It is much more likely that they unknowingly let it on-board by installing an infected freeware bundle. Such bundles are most commonly promoted on shady freeware websites. If you are unlucky, you can install several malware infections onto your computer at the same time. That is why we ask you to be careful to install any package and make sure beforehand that you know what it really contains. Also, choose your source of downloads carefully and try to stick with reputable websites. With these easy steps you can save yourself a lot of unnecessary headaches.
Hopefully, you see now that there is no other way to deal with this situation than to remove Zorable from your PC. You can get rid of this adware manually if you simply uninstall it through Control Panel. You can use our instructions below if you are not sure how to do that. In order to be certain that there are no more infections on your computer, we suggest that you run a full system scan by using a free online malware scanner. If you have any question regarding Zorable, please leave us a message below.
Zorable Removal from Windows
Windows 8, Windows 8.1, and Windows 10
Tap Win+I and choose Control Panel.
Access Uninstall a program.
Select the application and click Uninstall.
Windows Vista and Windows 7
Open the Start menu and go to Control Panel.
Select Uninstall a program.
Click on the application and click Uninstall.
Windows XP
Click the Start button and open Control Panel.
Select Add or Remove Programs.
Click on the application and click Remove.
In non-techie terms:
Zorable is an advertising-supported free program that might pose a threat to your Windows operating system by displaying potentially harmful third-party advertisements on your computer screen. Clicking on those ads might take you to malicious websites. It is also possible that there are other threats on your computer that may have been distributed in the same package. In order to restore the previous level of security, you should remove Zorable and all the other infections as well.