Do you know what Zoo Toolbar is?
Zoo Toolbar is a browser plug-in that is also considered a potentially unwanted program. It is very far from being a dangerous computer infection, but users are generally advised against installing it on their computers, because Zoo Toolbar may be related to various security risks. Some users may have problems with Zoo Toolbar, because it may modify your browser settings. However, keep in mind that this modification occurs only if you allow it. In case you need to remove Zoo Toolbar, you can do it manually. For detailed manual removal instructions, please scroll down to the bottom of this article.
Zoo Toolbar is a toolbar oriented towards social networking, because it has various shortcuts to Pinterest, Tumblr, Twitter and Facebook. Based on your preferences, you may also change your default home page to zoo.com, and your default search engine will also be modified for isearch.zoo.com. Take note, that Zoo Toolbar does not change your browser settings without having consulted you first. However, the disturbing fact is that the Zoo Toolbar download link at zoo.com is dead. It means that if this toolbar is installed on your PC, you most probably have managed to catch it after having installed and downloaded some freeware application.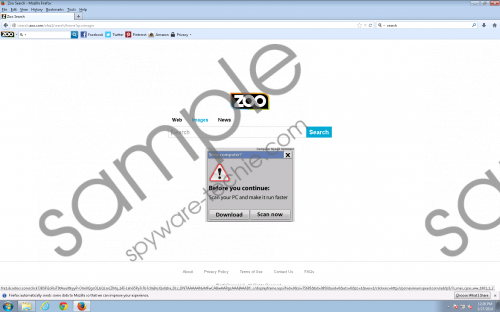 Zoo Toolbar screenshot
Scroll down for full removal instructions
The good part is that Zoo Toolbar does not get installed silently – you are prompted about the oncoming installation. Also, if your browser settings get modified, it means that you have overlooked certain installation steps that would have allowed you to opt out of using zoo.com for your home page.
In general, Zoo Toolbar is not malicious by itself and its search engine does seem to provide you with relevant search results. However, the main security issue related to this application is that Zoo Toolbar tends to display quite a lot of commercial pop-up ads. The plug-in makes use of amsi1.adnxs.com and fra1.adnxs.com adware servers to generate the pop-up content. Since the plug-in itself cannot and does not check what kind of content is embedded into the ads, you may be exposed to corrupted websites that are part of online marketing schemes.
In the worst case scenario, you could get infected with malware as well. Therefore, to prevent any of this from happening, you should remove Zoo Toolbar from your computer right now. After manual removal you are strongly recommended to scan your PC with SpyHunter free scanner, as there might e other freeware applications on your system that should be deleted to avoid potential security issues.
Uninstall Zoo Toolbar
Windows 8
Slide mouse cursor to the bottom right corner of your desktop.
Click Settings on Charm bar and go to Control panel.
Open Uninstall a program and remove Zoo Toolbar.
Windows Vista & Windows 7
Click Start menu button and go to Control Panel.
Click Uninstall a program and remove Zoo Toolbar.
Windows XP
Open Start menu and navigate to Control Panel.
Select Add or remove programs and uninstall Zoo Toolbar.
Change your browser settings
Mozilla Firefox
Click Firefox button and select Options.
Click Restore to Default button under General tab and press OK.
Click Search engine icon on the left of search box (top right corner).
Select Manage search engines on drop-down menu.
Remove Zoo Search from the lick and press OK.
Internet Explorer
Press Alt+X and click Internet options.
Click Use Default button under General tab and click OK.
Press Alt+X once more and select Manage add-ons.
Click Search providers on the left pane.
Set a new default search provider and remove Zoo Search.
Google Chrome
Press Alt+F and select Settings.
Mark Open a specific page or set of pages under On Startup.
Click Set pages and change your home page address. Click OK.
Select Manage search engines under Search.
Set a new default search engine, delete Zoo Search and click Done.
In non-techie terms:
Zoo Toolbar is potentially unwanted program that is not a direct computer security threat, but users are advised against keeping it on their computers. Remove Zoo Toolbar to avoid various security issues and then make sure your computer is 100% safe from various threats.