Do you know what FolderShare is?
FolderShare is a free data sharing program allowing PC users to share data on a single network. The software has a counterpart named FolderShare and owned by Microsoft, so do not get confused. The FolderShare software we are about to discuss is categorized as a potentially unwanted program (PUP) which is distributed by a bundled setup file packed with adware. More specifically, in addition to the program FolderShare, some adware components initiating displays of various advertisements are installed. If you have installed FolderShare unintentionally and now want to remove it along with all the advertisements it shows you, scroll down to the end of the review to find a removal guide and removal-related recommendations.
FolderShare does all that is should do: It enables computer users to share data across different devices, but the unwanted bonus files that arrive alongside the file sharing software cause a lot of trouble. The adware components reside in the %PROGRAMFILES% or %APPDATA% directory and launch advertisements in separate browser windows. In some cases, over 10 advertisements may be loaded at a time.
Whenever you are forced to face an advertisement, remember that you are expected to click on it and access some unknown website. We advise you against clicking on any ads, no matter in what format they are created, to prevent landing on harmful websites containing malware. An advertisement may also be designed to obtain your personal information. For example, upon clicking the malicious ad, you might be asked to provide your personal information, or even banking details, which you should not do at any cost. Online advertising is a powerful tool to use malicious script against unsuspecting Internet surfers, which means that online ads are used to spread trojan horses, ransomware, potentially unwanted programs, and other unsolicited software programs that make unauthorized changes on the computer.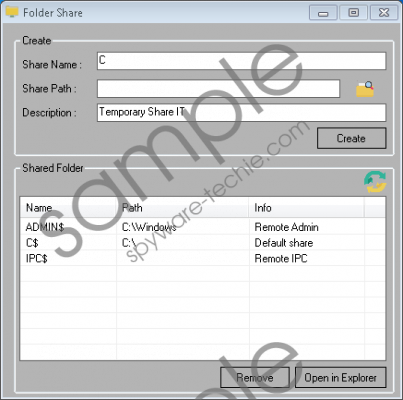 FolderShare screenshot
Scroll down for full removal instructions
In order to put an end to all those annoying advertisements, you should not just close them, but you should take action to remove the cause of those advertisements. Below you will find a step-by-step removal guide which will help you remove the PUP FolderShare and the files responsible for displaying obtrusive ads.
As for potentially unwanted programs, you should select software wisely so that you do not end up trying to find your folders among annoying pop-up windows. Software creators bundle their programs with adware or other harmful applications with the intention of taking any advantage possible from unsuspecting computer users. Hence, only reliable software sources should be used, but if you have an urge to try out some questionable application, first do some search on it to find whether it is safe to use. Otherwise, you may again end up as in the case with FolderShare polluting your computer with unwanted content.
Even though FolderShare itself does not pose danger to your privacy, you should be critical when dealing with programs that get on your computer accompanied by superfluous files or software. FolderShare can be removed by our recommended security program, which is available below as well as the guidelines for manual removal. All your questions are welcome, so, if you want to inquire about the PUP or adware, feel free to leave a comment below.
How to remove FolderShare
Uninstall FolderShare
Right-click on the Start icon in the Windows taskbar.
Select Control Panel.
Under the heading Programs, select Uninstall a program.
Right-click on foldershare and select Uninstall.
Remove the adware brought alongside FolderShare
Press Win+R and type %PROGRAMFILES% and click OK.
Find a randomly named folder and delete the following files:

[random characters].exe
[random characters].exe.config
cast.config
uninstaller.exe
uninstaller.exe.config

Access the %APPDATA% directory as in step 1 and find a randomly named folder.
Delete the following files:

[random characters].exe
[random character].exe.config
In non-techie terms:
FolderShare is a folder sharing program that eases data sharing on a network. The application is bundled with adware and, hence, is categorized as a PUP. In order to remove this application, use the removal guide given above or rely on a reputable anti-malware program.