Do you know what ZipperNew is?
ZipperNew is a potentially unwanted program that could be running on your system right now without your even realizing it. This application auto-starts with the Windows operating system, and sometimes users do not even know that they have ZipperNew installed on their computers. Computer security experts suggest removing the program from the affected system because potentially unwanted programs might inadvertently expose the unsuspecting user to potentially harmful content. You will do yourself a favor if you uninstall ZipperNew from your computer right now. For the manual removal guidelines, please scroll down to the bottom of this description.
When it comes to potentially unwanted programs, they are not hard to take care of. The problem is that there might be more of them than you have initially thought. Potentially unwanted programs usually get distributed in software packages. This means that you download and install several programs at once when you get an application from a third-party website. That is why users are often urged to stay away from file-sharing websites, because there is no guarantee that they will receive safe installer files from such pages. For what it's worth, ZipperNew might prove to be the least dangerous program on-board, and you will soon have to deal with something too nasty to cope with on your own.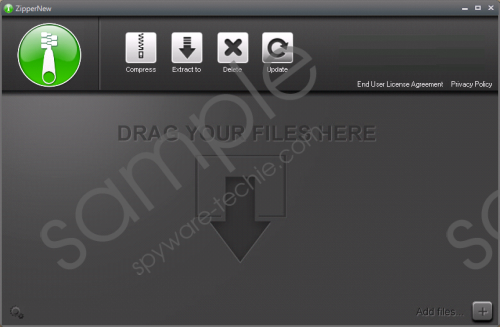 ZipperNew screenshot
Scroll down for full removal instructions
It does not really matter whether ZipperNew can actually compress and decompress your files the way it is promoted. If you were to open its website at zippernew.com, you would see that the application is commended for its speed: "Zipper exceeds most of its competitors in terms of speed. Up to 40% faster than its main rivals." However, we still think that it is rather risky to trust this application, because it promotes third-party content.
Usually, freeware applications have no other choice but to indulge in third-party advertising because they need to cover their development costs. ZipperNew comes from a family of similar programs that have been known to indulge in third-party advertising before. For example, the predecessors of this application include ZipperPro, VAFCompressor, and others. Although you may not notice it at first, ZipperNew can actually show commercial ads within itself. What's more, it can open new tabs while you browse the web. Obviously, these new tabs will be full of commercial content, urging you to click the embedded links.
However, you should refrain from clicking anything that comes from an unfamiliar source. Albeit the possibility of malware infection is not big, by clicking you would help the people behind ZipperNew make money via the pay-per-click system. Also, the application would collect information about your web browsing habits, and eventually that would result in a heavy onslaught of commercial pop-ups.
Since this program comes with an entry in the list of installed programs, you should open Control Panel right now and remove ZipperNew for good. In case you have installed the application via software bundle, you should definitely scan your PC with the SpyHunter free scanner to locate all the other unfamiliar applications.
Do all you can to protect your system from potential threats. Keep in mind that the best method to avoid similar intruders in the future is to invest in a powerful antispyware program.
How to Delete ZipperNew
Windows 10 & Windows 8.1
Right-click the Windows icon the left side of your taskbar.
Click Control Panel on the drop-down menu.
Go to Uninstall a program and remove ZipperNew.
Windows Vista & Windows 7
Press Win+R and the Run command prompt will open.
Type "Control" into the Open box and hit Enter.
Click Uninstall a program and remove ZipperNew.
Windows XP
Press the Start button and navigate to Control Panel.
Select Add or remove programs and uninstall ZipperNew.
In non-techie terms:
ZipperNew is a program that can cause more trouble than do any good. The application is associated with unwanted programs and malicious browser toolbars that could be part of corrupted online marketing schemes. It is in your best interest to remove ZipperNew from your system, and while you are at it, be sure to check for other potential threats. Should you have any questions related to computer security, you can always leave us a comment below.