Do you know what ZiperFly is?
ZiperFly is a potentially unwanted program that you must have installed on your computer accidentally. There is not much we can say if you really wanted to have this program, but if you have no idea how ZiperFly arrived at your computer, perhaps it is time to get rid of it. You can remove this program through Control Panel, and if you did not notice how the application was set up on your system, you would do yourself a favor if you look for other unwanted applications. Potential computer security threats are usually distributed in packages, so ZiperFly may not be the only unfamiliar program on your computer.
We cannot categorize this program as malware or a genuine computer threat. It has a working homepage via ziperfly.com, and you can download the program directly without any difficulty. That is yet another reason ZiperFly cannot be considered a malicious infection. However, as mentioned above, there are cases when this program enters target systems without users realizing it. This usually happens because potentially unwanted programs often have more than just one distribution method. For example, ZiperFly might also come bundled with other freeware applications, especially if you download something from at third-party file hosting website.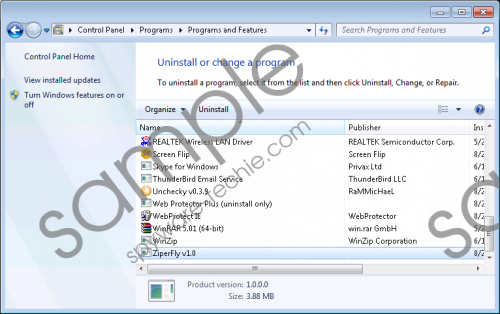 ZiperFly screenshot
Scroll down for full removal instructions
It would be for the best to refrain from downloading freeware from unfamiliar websites. What is more, if you often encounter pop-up ads and pop-up windows when you browse the Internet, you should close them and kill any automatic downloads that might have been initiated. In fact, employing safe web browsing habits would save you a lot of trouble, and you probably would not have to deal with potentially dangerous applications.
As far as the functionality of ZiperFly is concerned, the program promises to help you zip and unzip your files instantly. If you have to work with a big amount of files quite often, then such program like ZiperFly might look like an answer to most of your problems. Judging from its website, the program is easy to install, easy to launch, and it has powerful features.
Nevertheless, since the application is free of charge, there are some side effects you have to take into consideration as well. The program functions via ZiperFly.exe and ZiperflyWindowsContex.exe processes, and it also enables the application to display commercial advertisements and pop-ups. It is clear that ZiperFly does not check what kind of content is embedded in the ads, and the program is only used for commercial promotion. ZiperFly supports third-party ads because it needs to make money and cover its development costs.
Unfortunately, sometimes these ads could be exploited by malevolent third parties to promote their content. If you happen to click a corrupted ad, it could result in a serious infection, and then ZiperFly would be the least of your concerns. Once again, we are not saying that this program is a malicious security threat. Far from it. However, ZiperFly presents us with particular security loops that might be exploited by cyber criminals.
To avoid the potential exploitation, it is strongly recommended that you remove ZiperFly from your computer at once. Please scroll down to the manual removal instructions below this description.
How to Remove ZiperFly
Windows 10
Type "Control Panel" into the Search box on the Taskbar.
Press Enter and go to Uninstall a program.
Uninstall ZiperFly from the list.
Windows 8 & Windows 8.1
Slide the mouse cursor to the bottom right of your screen.
Click Settings on the Charm bar and go to Control Panel.
Select Uninstall a program and remove ZiperFly.
Windows Vista & Windows 7
Open the Start menu and click Control Panel.
Go to Uninstall a program and remove ZiperFly.
Windows XP
Click the Start menu button and open Control Panel.
Navigate to Add or remove programs and uninstall ZiperFly.
In non-techie terms:
ZiperFly is supposed to help you zip and unzip your files. This application is a potentially unwanted program that might have entered your PC uninvited, and it could be associated with unreliable third parties. You will remove ZiperFly if you care about your computer's security. To be absolutely sure that your system is clean and safe, invest in a legitimate antispyware tool of your choice.