Do you know what Zeast PC Tuneup is?
Although Zeast PC Tuneup might look as a normal application, it does not serve in a beneficial manner. On the contrary, this program can put your virtual security at risk, which is why you need to remove it without further delay. Whether you identify this program as "Zeast_PC_Optimiser" (the name of the uninstaller), it was created to trick you into calling a number that supposedly connects you to helpful technicians. First of all, it is unlikely that you need the help of any technicians. Secondly, you might get yourself into bigger trouble by contacting them. This is because we do not know who might answer your call or what their intentions might be. Needless to say, we suggest deleting Zeast PC Tuneup for security purposes, and you can read more about this in our report.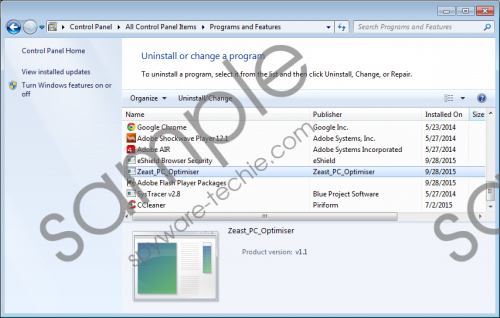 Zeast PC Tuneup screenshot
Scroll down for full removal instructions
Our research team could not find a website representing Zeast PC Tuneup. It is quite possible that this suspicious, potentially unwanted program is solely distributed by third parties, and this is bad news. Third parties are unpredictable, and they could easily package the unreliable PUP along with much more malicious threats. For all we know, you could be tricked into installing malware if you called the number provided by Zeast PC Tuneup. In the worst case scenario, the people on the other side of the line could try to infect your operating system with malware or trick you into paying money for unreliable services. Moreover, although you might be informed that calling 1-800-935-0823 is free of charge, no one can guarantee this. Did you know that Zeast PC Tuneup could be executed by malicious Trojans? Even if you are sure that you do not need to delete malicious programs along with the PUP, it is a good idea to install a malware scanner just to be sure. Of course, if malware is found, you must remove it ASAP.
Have you uninstalled Zeast PC Tuneup from your Windows operating system? Unfortunately, it is unlikely that this will do more than delete a desktop shortcut. In order to remove Zeast PC Tuneup successfully, it is likely that you will need to eliminate malicious files as well. If you follow the instructions below, you will learn how to get rid of this PUP successfully. Unfortunately, we cannot tell you how to remove third-party programs because we do not know which ones are active on your operating system. You can try researching the removal of this software after identifying it with a malware scanner; however, we advise using a security tool to have your operating system cleaned automatically.
Remove Zeast PC Tuneup
Remove from Windows XP
Open the Start menu and click Control Panel for more options.
Double-click Add or Remove Programs.
Select the unwanted program and click the Remove button.
Launch Windows Explorer (Win+E) and enter %USERPROFILE%.
Open Local Settings and move to Application Data.
Delete WinKav, ZeastOptimiser, and ZeastOptimiserUn folders.
Remove from Windows Vista/Windows 7/Windows 8/Window 10
Tap Win+R to launch RUN and enter Control Panel.
Click Uninstall a program and find Zeast PC Tuneup (Zeast_PC_Optimiser).
Right-click the program you want to delete and click Uninstall.
Launch Windows Explorer (Win+E) and enter %LOCALAPPDATA%
Delete WinKav, ZeastOptimiser, and ZeastOptimiserUn folders.
In non-techie terms:
Zeast PC Tuneup can expose you to fake security warnings and Blue Screen of Death alerts, but none of this should be taken seriously. These tools are used to trick you into calling the provided helpline number and following the demands of unpredictable parties. Although the suspicious PUP might be able to delete junk files in the Temp folder, it is unlikely that it will offer reliable system optimization services. Due to all this, you should not postpone the removal of Zeast PC Tuneup for any longer. Use the manual removal guide above and install an automated malware remover to get rid of any remaining threats.