Do you know what YourTemplateFinder Toolbar is?
YourTemplateFinder Toolbar is a program that we identify as a toolbar hijacker. This is not the most dangerous infection of all; however, it can pose a threat to your virtual security. Our research team has found that the official download page for this strange program is free.yourtemplatefinder.com/index.jhtml; however, it could enter your PC when you interact with third-party installers. Have you downloaded YourTemplateFinder Toolbar along with programs that require removal? If you suspect that you have, it is wise to analyze them as well to know if they should be deleted. This report focuses on the removal of YourTemplateFinder Toolbar, but you should not forget to take care of all active threats. If you continue reading, you will learn how to eliminate all infections and how to take care of Windows protection in the future.
Mindspark Interactive Network is the creator of YourTemplateFinder Toolbar, as well as other infamous toolbars, including HowToSuite Toolbar, FileShareFanatic Toolbar, and AnimeUnzipped Toolbar. As you can tell by the names of these programs, they serve a specific purpose. YourTemplateFinder Toolbar, for example, promises to help users access free templates. This program primarily promotes its own page, yourtemplatefinder.com; however, it also promotes links to sites associated with Resumes, Business Stationary, Promotional Flyers, Thank You Cards, Fax Cover Sheets, Letters of Recommendation, etc. If you install this program onto Internet Explorer, it will add a Control Panel uninstaller. If you install it onto Chrome or Firefox browser, you will need to delete YourTemplateFinder Toolbar directly from the browsers. Besides adding a toolbar, this program also introduces third-party search tools. IE and Firefox users will be offered Ask.com search tools, and search.myway.com will be added to Chrome without any warning. Due to this, users often identify the toolbar as a hijacker, and it is no wonder that these users wish to remove this program from their browsers.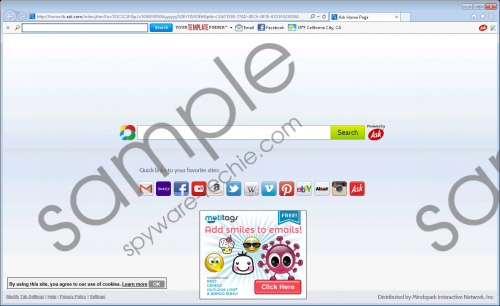 YourTemplateFinder Toolbar screenshot
Scroll down for full removal instructions
YourTemplateFinder Toolbar communicates with remote servers, including ak.imgfarm.com, anx.tb.ask.com, and anx.mindspark.com. The purpose of this communication is not entirely clear, but it is possible that the toolbar can use it to download updates and data. A script file, called "extension_toolbar_api.js" (found under C:\Users\user\AppData\Local\Google\Chrome\User Data\Default\Extensions\[extension ID]), shows that YourTemplateFinder Toolbar can check .iwon.com, .mindspark.com, .myway.com, .zwinky.com, .excite.com, and .yourtemplatefinder.com domains to see what services are required. Tracking cookies employed by this program can record and transfer all kinds of information. Although it is unlikely that your personal data is at risk, you might have information regarding your browsers, browsing history, and general activity shared with unknown parties. This is one of the reasons why you should delete YourTemplateFinder Toolbar from your PC.
Ask.com is a popular search provider, but using it via YourTemplateFinder Toolbar might be a mistake. The search results displayed could be modified to show sponsored links, and we are sure that you do not want to see that. Search.myway.com is another search provider associated with this toolbar hijacker, and it is most likely to be installed onto Google Chrome. You should be careful when using this search tool as well. It is most likely that this extension will modify your startup page, making the New Tab appear first. This way, you will be exposed to the toolbar and the strange search provider as soon as you launch your browser. If you remove YourTemplateFinder Toolbar from the Chrome browser, you will get rid of the unwanted extension, and your startup will be back to normal. If you delete YourTemplateFinder Toolbar from Firefox, you might have to check a few boxes to confirm that you want your search tools reset. Internet Explorer users will need to uninstall the app via Control Panel first. Unfortunately, these are not all of the removal steps you will need to succeed.
Although manual removal might seem straightforward, you are likely to find leftovers (see the list below). If you are having trouble with the detection of any leftovers and, more importantly, third-party malware, we advise using a legitimate malware scanner. Needless to say, an authentic antimalware tool is the most valuable tool against computer infections, and we recommend installing it without further delay, even if you have decided to perform the removal manually.
Delete YourTemplateFinder Toolbar
Delete from Windows 10/Windows 8
Enter Control Panel into the RUN (tap Win+R) dialog box.
Open the Control Panel and click Uninstall a program.
Right-click the application you want to remove and select Uninstall.
Delete from Windows 7/Windows Vista
Move to the Taskbar and click the Windows logo.
Open the Control Panel menu and click Uninstall a program.
Locate the app you want to remove, right-click it, and select Uninstall.
Delete from Windows XP
Open the Start menu from the Taskbar and click Control Panel.
Double-click Add or Remove Programs to find the installed applications.
Select the undesirable application and click the Remove button.
Delete from Mozilla Firefox
Launch Firefox, tap Alt+T, and select Options.
Move to the General menu and change/remove the Home Page URL.
Move the Search menu and Remove the unwanted search provider.
Tap Alt+T again and select Add-ons.
Move to the Extensions menu and Remove the unwanted extension.
Delete from Internet Explorer
Launch IE, tap Alt+T, and select Internet Options.
Click the General tab and find the Home Page section.
Overwrite/remove the URL and click OK.
Tap Alt+T again and click Manage Add-ons.
Move to the Search Providers menu and set the desired provider.
Remove the undesirable provider and click Close.
Delete from Google Chrome
Launch Chrome, tap Alt+T, select More tools, and click Extensions.
Click the trash button next to the unwanted extension and select Remove.
Navigate to the menu on the left and select Settings.
Go to On Startup and select Open a specific page or set of pages.
Click Set pages and change/remove the unwanted URL.
Go to Appearance and select Show Home button.
Click Change and change/remove the unwanted URL.
Delete these leftovers
Tap Win+E to launch Explorer.
Enter C:\Users\user\AppData\Local\Google\Chrome\User Data\Default\Local Storage into the address bar.
Delete http_yourtemplatefinder.dl.myway.com_0.localstorage-journal and http_yourtemplatefinder.dl.myway.com_0.localstorage .
N.B. If you discover more files associated with YourTemplateFinder Toolbar in this folder, delete them all.
In non-techie terms:
You should remove YourTemplateFinder Toolbar without further delay. You can easily access the services it promotes individually, and we do not think that they are worth installing some strange application. The removal depends heavily on the browser you use. If you use IE, uninstall YourTemplateFinder Toolbar via Control Panel. If you use Chrome and Firefox browsers, delete it from the browsers. Also, do not forget to remove the suspicious search tools whose search results might be modified, as well as third-party malware that sometimes comes bundled with this strange toolbar.