Do you know what Yoursites123.com is?
Yoursites123.com is not your average search engine that tries to squeeze in the already overcrowded search engine market. However, it is considered a browser hijacker, so you have to remove it from your system as soon as possible. Its developers distribute it using dishonest methods, so this hijacker always comes secretly. Also, you should not trust its search results because they are bound to contain links and ads from it "partners." this hijacker is a low-risk infection, but in the worst case scenario, it can cause you some serious problems. Please read this whole article to know more.
Yoursites123.com is in no way unique since it is just a mere clone of previously released browser hijackers, such as Istartpageing.com, Istartsurf.com, and Isearch.omiga-plus.com. As you would expect, all of these hijackers come from the same source, but the problem is that this source is unknown. So if the search engine is not signed by the developing company, then there has to be something wrong with it, and this seems to be the case with this search engine/browser hijacker. As mentioned, it developer uses deceptive distribution methods, so let us discuss it in greater detail.
This hijacker does not have a browser extension that comes with it, so we have ruled out the possibility of it being distributed as a standalone application. Instead, it relies on software bundles. It is important that the installer contains several applications so that you would not notice this browser hijacker's presence. Also, you cannot remove it from the installation setup as it is always injected secretly without exception. Thus, only a powerful antimalware program can detect that Yoursites123.com is trying to enter your computer and block it.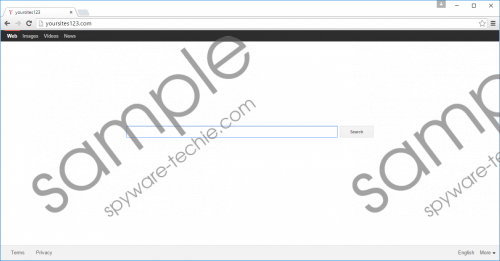 Yoursites123.com screenshot
Scroll down for full removal instructions
However, there is a reason antimalware programs block this browser hijacker. As its category name implies, it hijacks your browsers settings and modifies them according to its liking. Our malware researchers say that Yoursites123.com can hijack and modify Firefox, Chrome, and Edge. It will hijack the search engine/provider of all three of these browsers, but will only hijack the homepage of Firefox, and Edge, while Chrome's homepage will remain unaffected since it does not have a default homepage to begin with. You may try resetting your browser settings to how they were, but this will prove to be futile as this browser hijacker also hijacks the browser's Target line. We will show you how to fix the Target line at the end of this article. However, before we do that, we must go over another issue regarding this hijacker.
Yoursites123.com's purpose is to hijack your browser's settings, but it does this to generate advertising revenue. Yes, money is what motivates this search engine's developers to employ dishonest distribution methods. Thus, it may feature subtle advertising in its search results. Its Terms of Service document acknowledges this by stating "We may provide third party content (including advertisements) or link to third party websites on the Services. We do not necessarily endorse or evaluate third party content and websites, and we do not assume responsibility for third parties' actions or omissions." This statement implies that some of its promotions may come from unreliable sources and that Yoursites123.com will take no responsibility for it. Therefore, you have to get rid of it.
In conclusion, Yoursites123.com is a malicious search engine that is secretly distributed using bundled software and is set to hijack and modify your browser's settings to serve the needs of this hijacker's developer's i.e. display commercial content in it search results. Moreover, since it can promote malicious content such as malware and infected websites you should remove this browser hijacker.
Uninstall Yoursites123.com application via Control Panel
Windows 10
Right-click on the Start menu.
Click Control Panel and go to Uninstall a program.
Locate and Uninstall the application.
Windows 8/8.1
Open the Charm bar.
Click Settings and select Control Panel.
Open Programs and Features.
Locate and Uninstall the program.
Windows 7/Vista
Open the Start menu and click Control Panel.
Select Uninstall a program.
Locate and Uninstall the software.
Windows XP
Open the Start menu and click Control Panel.
Open Add or Remove Programs.
Locate and Remove the program.
Fix the browser's Target line
Right-click on the browser's shortcut.
Select Properties and open the Shortcut tab.
Fix the Target line by erasing the added address.
Click OK.
Reset your browser's settings
Google Chrome
Press Alt+F and click Settings.
Select Show advanced settings.
Click Reset settings.
Then, click Reset in the dialog box.
Mozilla Firefox
Press Alt+H and click Troubleshooting Information.
Click Refresh Firefox.
Click Refresh Firefox again in the dialog box.
Finish.
Microsoft Edge
Click More actions and go to Settings and select Open with a specific page or pages.
Select new address.
Click Advanced settings.
Type a new homepage address in the address bar.
Choose a new search engine in Search in the address bar with.
In non-techie terms:
Yoursites123.com is a malicious search engine that our researchers have classified as a browser hijacker, because it is distributed in such a way that it infects a computer without you knowing about it. it modifies browser settings to display ads and generate adverting revenue, but the ads are unreliable and can compromise the PC's security. Its developers have taken measures to prevent users from removing this browser hijacker. Please read the whole article for more information.