Do you know what Yoursafersearch.com is?
Yoursafersearch.com can actually look like a reliable search engine, so it is not surprising that users might get tricked into using it. Sometimes it is hard to determine whether such applications are direct computer security threats because they do not look like your usual infections. However, any program that messes with your browser settings without your permission or enters your computer when you do not expect it all should not be given a light treatment. It is important that you remove Yoursafersearch.com from your system at once because the longer this program remains on your system, the more damage it could cause.
To avoid browser hijackers, it is important to pay attention to what programs you tend to download and install on your computer. Also, the websites you frequent on a regular basis may also be associated with various computer security issues. For example, if you download programs from file-sharing websites, some of the third-party installers could bundle several programs together. You may not need all of those programs, but what are the chances you will know about the additional apps? Especially, if you do not read the installation wizard through and through? Alas, most of the users tend to breeze through the installation because they think that the installation is a default process that does not require specific attention.
This is how Yoursafersearch.com and other browser hijackers from the ELEX group (including Myluckysurfing.com, Mobsearches.com, and MyLuckyPage123.com) manage to enter target systems. Sometimes the browser hijackers could also come from pop-ups you encounter when you access online gaming sites and other pages that are full of various advertisements. Whatever it might be, you have to understand that this browser hijacker is probably just one of the many undesirable applications that have recently entered your computer.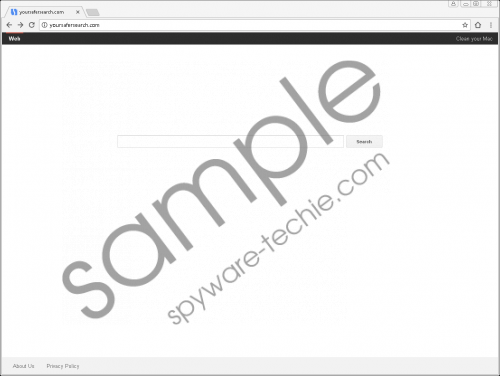 Yoursafersearch.com screenshot
Scroll down for full removal instructions
At least with the browser hijacker, you can be sure that you will not get ugly surprises. This program simply changes your default homepage, and for some users, it may even look like an upgrade to their usual search engine. Of course, that is not the only thing this program does. Yoursafersearch.com will also use tracking cookies to collect information on your browser history. It is not that sophisticated to log your keystroke to steal your banking logins and passwords, but the program can easily find out your favorite websites and your likes and preferences via your search keywords.
What will it do with that information? Yoursafersearch.com will generate custom commercial content that you will feel inclined to click. This content will mostly reach you in the shape of web search results. However, those search result links will be modified, and by clicking them, you will expose yourself to potentially harmful third-party content. The point is that browser hijackers are not responsible for the outgoing links and the websites you land on. So you can never know what you will find on the other hand.
Of course, that does not mean that Yoursafersearch.com wants to infect you with malware. The browser hijacker simply generates a financial profit whenever you click the content it provides. It simply becomes a potential medium for malware distribution because of its loose privacy policies. And if the program is exploited by cyber criminals, it will surely cause you some serious trouble.
Hence, it is necessary to remove Yoursafersearch.com from your system at once. You can delete the browser hijacker manually, following the manual removal guidelines that you will find right below this description. For Internet Explorer, you will have to delete the Windows Registry entries that implemented browser settings modifications. For other browsers, you will have to delete the entries left within the browser directories in your system.
However, if you think that manually removal is too much of a task for you, you can always get rid of the unwanted programs with a licensed antispyware tool. At the same time, you will be able to launch a full system scan that will help you find and terminate other potential threats.
Your computer's security should be one of your top priorities because that translates to your personal information security, too. If you need tips for that, please feel free to contact us, and our team will reply ASAP.
How to Remove Yoursafersearch.com
Internet Explorer
Press Win+R and enter regedit. Press OK.
Open HKEY_CURRENT_USER\Software\Microsoft\Internet Explorer\Main.
Right-click the Start Page value on the right.
Select Modify to change your startup page..
Click OK.
Chrome
Press Win+R and enter %LocalAppData%. Click OK.
Go to Google\Chrome\User Data\Default.
Delete the Preferences, Secure Preferences, and Web Data files.
Firefox
Press Win+R and type %AppData%. Press OK.
Navigate to Mozilla\Firefox\Profiles\[Mozilla user ID].
Open the prefs.js file with Notepad.
Delete this string: user_pref("browser.startup.homepage", "http://Yoursafersearch.com");
Save changes and close the file.
In non-techie terms:
Yoursafersearch.com is one of the many computer security threats that can inadvertently expose you to a number of risks. The moment you notice that your browser settings have been modified, you need to scan your PC with the SpyHunter free scanner, and then remove the programs that appear on the results list. This browser hijacker might be just one of the many undesirable programs that have entered your PC. So you need to take care of them all.