Do you know what XP Antivirus 2014 is?
XP Antivirus 2014 is typical rogue security software. It will appear on the computers with Windows XP OS. Windows 7, Windows Vista, and Windows 8 users might encounter it as well; however, it will change its name depending on the type of the OS. XP Antivirus 2014 itself is going to block the access to different programs, including all your browsers, in order not to be easily removed. However, we do not recommend letting it stay on your system because you will not be able to use your computer and it might attract a bunch of infections on your system. In this sense, XP Antivirus 2014 is very similar to other threats from FakeRean-Braviax family. In order to delete XP Antivirus 2014 from the system, you will have to acquire an antimalware scanner and then just simply launch the scanner. Unfortunately, XP Antivirus 2014 does not have any uninstall file, which means that you will not be able to erase it via Control Panel.
The publishers of XP Antivirus 2014 just simply seek to convince computer users that this program is reliable. Thus, it is not surprising that this fake security software looks like decent antispyware application. It has been observed that various fake warnings will appear on your screen when you try to launch any program. Keep in mind that it is done in order to convince you to buy the license; thus, you should definitely not trust any word of XP Antivirus 2014. Unfortunately, you might easily encounter similar programs in the future, which is why we recommend being very cautious.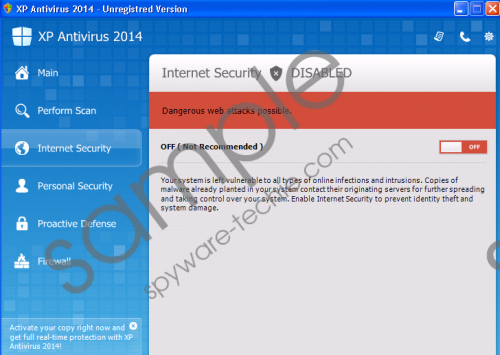 XP Antivirus 2014 screenshot
Scroll down for full removal instructions
According to the specialists of spyware-techie.com, this program usually travels bundled with different kinds of applications; however, you might still download this software yourself. It has been found out that this might happen if you click on ads placed on unreliable websites. Thus, if you do not want to end up with similar threats in the future, you should ignore ads offering to check the condition of the system. In addition, you should not download programs from suspicious sources and open email attachments, especially sent by unknown senders.
There is a possibility that you will be able to activate this software without buying the license. You should just try to provide fake name, surname, card number, CVV, email, and address. It does not seem that XP Antivirus 2014 check whether the inserted data is correct or not. Even if you have succeeded to activate XP Antivirus 2014, you should still delete it from the system because it might slow down your computer and do other suspicious activities behind your back.
How to get rid of XP Antivirus 2014
Windows XP
Restart your computer and start tapping F8 when BIOS screen disappears.
Select Safe Mode with Networking from Windows Advanced Options Menu.
Tap Enter.
Click Yes when the notification appears on your screen.
Download an antimalware tool from http://www.spyware-techie.com/download-sph .
Click the Start button and then launch RUN.
Type in msconfig and click OK.
Open the Startup tab and click Disable All.
Click OK.
Reboot your computer, install the security software and then scan PC.
In non-techie terms:
If you do not remove XP Antivirus 2014 entirely from the system, there is a possibility that it will block your access to different kinds of applications and you will have to activate it again and again. It is worth investing in SpyHunter antimalware suite because it will remove XP Antivirus 2014 entirely and keep your computer protected from other infections.