Do you know what Wowstart.online is?
If Wowstart.online happens to be your browser's homepage, then you should consider removing it and setting a new one, because it is a browser hijacker. Our researchers have classified it as such because of the way it is disseminated. Hence, it comes via malicious installers that inject into the web browser it without your consent. Furthermore, it can show advertisements in its search results and collect information about you that is used for commercial purposes. So, in short, this search engine is no good and the sooner you get rid of it, the better. Nevertheless, we want to provide you the most relevant information about it to support our claim, so please continue reading if you want to find out more.
Nowadays we see more and more browser hijackers whose developers fail to include any legal documentation such as an EULA and Privacy Policy. Therefore, there is no information about it including information about its developer which is crucial to determine how dangerous it can be and link other infections. So, unfortunately, we do not know where this hijacker comes from, but we do know how it is distributed.
Our researchers say that Wowstart.online might be bundled with malicious software installers that are featured on websites that distribute free software. You should always be aware of free software because its installers are more than likely to include an ad-supported program or even a browser hijacker. However, unlike adware, browser hijackers are usually injected automatically without the user's knowledge so that it may look like Wowstart.online comes out of the blue. In addition to freeware, we believe that it may also be bundled with software downloaders that are often used to download pirated software or software cracks or keygens. In all cases, this hijacker modifies your browser's settings without your consent, and that is one of the reasons why you ought to get rid of it.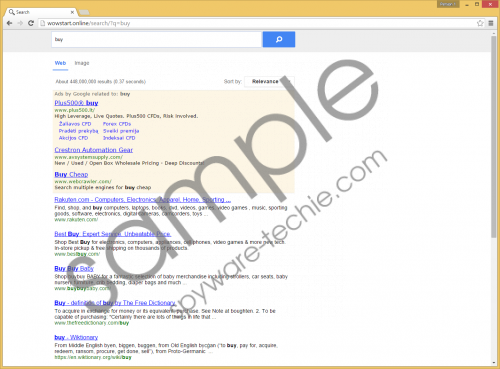 Wowstart.online screenshot
Scroll down for full removal instructions
Take note that Wowstart.online only works on Google Chrome. Therefore, our researchers suggest that it probably has an accompanying browser extension. So a malicious installer installs the extension and the extension automatically changes the homepage address. Once this browser hijacker has secured its position on your computer you may be inclined to use it. This infection is distributed all around the world and is quite popular in some countries. Our researchers have found that it is most prevalent in Peru which accounts for 22 % of all visits followed by Egypt with 14 % and Thailand with 13 %. Therefore, we believe that its promotions are region-specific. Moreover, to make region-specific advertisements work when an application was internationalized, its developers have to make the program collect information to present more relevant ads to make money.
Our malware analysts say that Wowstart.online has been configured to gather information such as your browsing and search history, as well as your computer's IP address, and thus, your approximate geographical location. So not only does it show you annoying and potentially unreliable advertisements but collect information about you to increase the chances of you clicking on one. Another reason you should remove it is because it uses Google's Custom Search to process your search queries. So actually, you are using Google.com with the addition of content that otherwise would not be presented. Therefore, we encourage you to get rid of this injection as soon as possible and set a legitimate search engine.
We hope that you found this decryption useful, and now you are ready to delete Wowstart.online from your computer for good. First of all, you have to remove its accompanying browser extension, provided that it is present. Then you have to change the homepage address or just reset Google Chrome's settings to default. After you have done that you might have to go to one of Chrome's hidden folders and delete several files. After you have completed all of these steps, your computer will be secure. However, as an alternative, you can use an anti-malware application.
Reset Google Chrome's settings to default
Open the browser and click Alt+F.
Select Settings.
Click Show advanced settings and scroll to the bottom.
Click Reset settings.
In the dialog box, click Reset.
Delete modified files from Chrome's directory
Press Windows+E keys.
Enter %LocalAppData%\Google\Chrome\User Data\Default in the address box.
Find the files named Preferences, Secure Preferences and Web Data and Delete them.
In non-techie terms:
Wowstart.online is a browser hijacker that poses as a legitimate search engine. It is distributed using malicious software bundles that infect your computer with this hijacker without your knowledge or consent. This hijacker's only purpose is to make you use it so that you could be subjected to commercial advertisements and its developers could get paid. Hence, this search engine will not improve your browsing experience, so do yourself a favor and remove it as soon as you can.