Do you know what WowMovix is?
If you are thinking of acquiring a program called WowMovix, make sure no to do so under any circumstances. It is crucial to highlight the fact that in quite a few cases Internet users are simply tricked into obtaining this application without realizing how it actually works. After conducting a detailed investigation, malware researchers at Spyware-Techie.com have categorized this program as one more adware application. Unfortunately, due to deceiving marketing strategies employed by developers of this intrusive program, naïve Internet users are fooled by various claims stating that this program could be a beneficial tool to enhance their online experience in various ways. The application in question should improve your ability to manage downloads as well as it should provide free access to tons of movies and TV series. In reality, it does not perform in such a way. Usually, it will cause major disruptions almost every single time you surf the web. Read the rest of this article and find out how WowMovix works and why it must be removed without any hesitation. You can do so by following the removal instructions that we present below.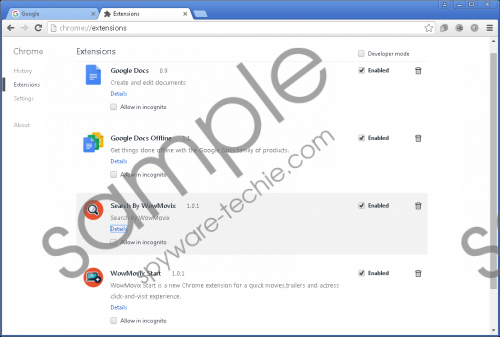 WowMovix screenshot
Scroll down for full removal instructions
WowMovix is yet another adware application that relies on a browser extension to function in the way it does. The ad-supported program in question implements its intrusive browser plug-in as soon as it gains full access to your operating system. For this adware to function, the intrusive third-party extension is an essential part since it is used to initiate silent connections to suspicious adware servers. Once such connections are fully established your web browser will get filled with an unusual amount of unwanted third-party web content whether you like it or not. The infamous adware servers mostly present invasive third-party ads, worthless coupons, and annoying pop-ups. Such activity will ruin your online experience much more than you might think. Since the adware program in question works in a random way, at times, your web browser could get filled up with so much of that dubious web content that surfing the web could become virtually impossible. It is also important note the fact that at this time this invasive adware program is only compatible with the Google Chrome web browser. Users using a different browser might think that they are safe; unfortunately, this is not the case because the developers of WowMovix could launch an updated version, which might affect other major web browsers. Thus, it is important to be aware of the fact that you might come across this ad-supported program. If you happen to already have this adware on your PC fully active, the only way that you can restore your web browser's default functionality is by conducting its complete removal.
Unfortunately, WowMovix could turn out to be just as malicious as it is annoying. The research team at our internal labs has discovered some rather alarming features of this adware upon further investigation. It has been noticed that sometimes this ad-supported program could serve as a gateway for other suspicious applications since it could trigger a silent download. Thus, your PC could end up filled with suspicious and even potentially harmful software. If that was not enough, you must know that WowMovix could also present you with dubious web content; ads and pop-ups presented by this adware could be hosting redirect links. This is a dangerous instance, to say the least, because by clicking on such an ad or pop-up you could be taken to an unknown third-party website. There is a possibility to be taken to websites that might be hosting malicious content. It should be obvious that entering such sites is a risk that no Internet user should take. At times just landing on a site like that could be more than enough to get your PC infected with some unknown malware because these websites might be running an arbitrary code execution exploit. If you are keen on keeping your computer safe and secure at all times, the removal of WowMovix is a must.
Fortunately, the removal procedure of WowMovix is not too complicated; thus, even non-advanced computer users should be able to execute it. It is imperative to run an in-depth analysis of your operating system once you are done with the manual removal since this way you will be sure that the intrusive adware program has been terminated successfully. Keep in mind that just a few leftovers linked to WowMovix could be enough for it to function. This is the reason the removal and analysis of your PC should be executed with extra care. How to remove WowMovix from your computer
How to remove WowMovix from your computer
Start your web browser.
Click the Chrome Menu button.
Select Settings and click Extensions.
Click the Trash can icon next to the WowMovix.
Select Remove to confirm your choice.
In non techie-terms:
It is not surprising that some users might find manual analysis of their operating system a bit too complicated since it involves registry editing, which is a complicated task. If you happen to one of such users, do not worry since our research team has created an alternative removal guide. Just follow the instructions that we provide below and you will be able to delete WowMovix in an automatic way.