Do you know what WorldNews New Tab is?
At first sight, WorldNews New Tab might look like a legitimate and even useful program, but our research team has found that this is not the case. This program does provide links to allegedly interesting news stories, but we are not sure that you can trust these links. We are just as doubtful about the links presented to you via Ask search. This is the search provider that you will be introduced to if you download the suspicious extension. Although we cannot state that 100% of the advertisements associated with this suspicious extension are unreliable, it is wise to stay away from them. Needless to say, the best thing you can do is remove WorldNews New Tab. Fortunately, you will need to remove this extension only from the Google Chrome browser.
Many computer users acquire the suspicious WorldNews New Tab add-on from lp.inmind-news.com. Unfortunately, this is not the only source that is used for the promotion of this application. It was found that this PUP can be introduced to users by third-party software distributors, who might propose WorldNews New Tab along with other suspicious programs. Note that some of these programs could be installed silently, which means that you might be unaware of them. If you want to learn if you need to delete WorldNews New Tab-related programs, it is best to install a malware scanner. Make sure that you install a legitimate scanner; otherwise, it is unlikely that you will find which programs you need to remove. On top of that, fake programs might be used to scam you!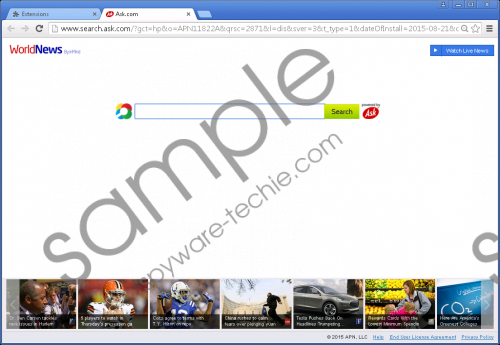 WorldNews New Tab screenshot
Scroll down for full removal instructions
It was found that WorldNews New Tab was developed using the same platform that was used for the creation of Mindspark Interactive Network toolbars. Even though it is unclear if the developer of the add-on, InMind Inc., is the developer of Mindspark toolbars, we know that it has already unleashed ConvertBox Toolbar and MusicBox Toolbar. If you are interested in the removal of these toolbars, you can check the removal reports that we have created after analyzing these programs. One of the biggest differences between these toolbars and WorldNews New Tab is the representation of Ask Search. If you install the toolbars, you will have the option to decline this search tool, but if you install the extension, you will encounter Ask.com every time you open the new tab. Note that this version of Ask.com is modified, and you might encounter potentially unreliable sponsored ads.
The removal of WorldNews New Tab is very simple as all you need to do is delete the undesirable extension from your Chrome browser. If you have never done this before, follow the removal instructions below. If other threats have corrupted your PC – which might have happened when installing the add-on – we suggest removing them using an authentic security program.
Remove WorldNews New Tab
Open Google Chrome and simultaneously tap Alt+F.
Select More tools (or Tools) and click Extensions.
Find the undesirable add-on and click the recycle bin.
Select Remove and restart your browser.
In non-techie terms:
WorldNews New Tab is not a beneficial program. The news it provides might link to unreliable sites, and the search provider it introduces users to might showcase sponsored advertisements. These are the reasons we suggest deleting WorldNews New Tab from your Google Chrome browsers. As you can tell by the instructions above, the removal of this add-on is not complicated. Unfortunately, we cannot say the same about the programs that could have been dropped onto your PC via the same software bundle. Use a reliable automated malware detection and removal tool to eliminate threats (if they exist).