Do you know what WiseEnhance is?
WiseEnhance is a free browser add-on which is promoted at wiseenhance.com and distributed by freeware installers, including Gameo and InstallCore. The application is aimed at making your experience on the internet better by displaying different advertisements and adding a toolbar your Google search results page so that you can easily access some other websites. The toolbar that is added by WiseEnhancee features links to YouTube, Twitter, Flickr, and Ebay. Moreover, WiseEnhance adds "Related Searches" (owned by TopicTorch), which are a list of search terms that you may like to use. In general, the application may seem to a very useful application; however, it is categorized as adware and can be removed from your computer by a powerful spyware removal tool.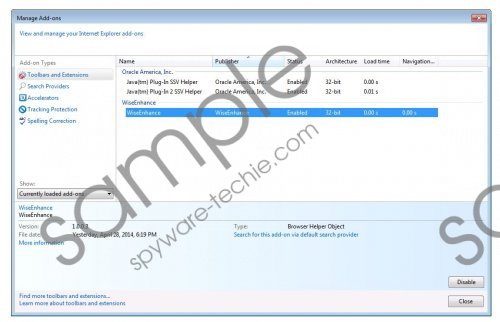 WiseEnhance screenshot
Scroll down for full removal instructions
WiseEnhance is compatible with Internet Explorer, Mozilla Firefox, and Google Chrome. The browser add-on is developed by SuperWeb, which is infamous for its other adware programs, including Blarble, LinkiDoo, Web Flipper, and many other applications.
WiseEnhance can provide you with web banners, in-line advertisements, coupons, pop-up advertisements, and other types of advertisements. WiseEnhance pop-ups may contains phrases such as "ads by WiseEnhance" or "WiseEnhance deals". Do not get confused because WiseEnhance does not sell any products. All those pop-ups belong to third parties, which are not monitored or governed by WiseEnhance. WiseEnhance does not endorse those third parties; as a result, you interact with WiseEnhance pop-ups at your own risk.
Our team recommends that you remove WiseEnhance from the computer because some of its pop-ups may be deceptive. You may be offered a chance to update your Internet browser or some other programs, which may turn out to be a scam. There are many insecure websites that promote famous products without being authorized by their developers. On top of that, those crooked software distributors bundle famous products with unknown and unreliable programs. If you want to prevent browser add-ons, adware programs, media players, and other unnecessary programs, you should remove WiseEnhance from your PC as soon as you can.
Do not hesitate to remove WiseEnhance from the computer because this application monitors your online behavior. It uses browser cookies and other techniques to record your clicks, search terms, browser type, IP address, browsing history, etc.
We recommend that you remove WiseEnhance using a spyware removal tool because manual removal may be insufficient. Implement SpyHunter if you want to have WiseEnhance removed and the system protected. The recommended application can safeguard the system against malware and spyware programs, so, if you want to be certain that you are safe on the Internet, take action right now.
How to remove WiseEnhance
Windows Vista and Windows 7
Click Start.
Select Control Panel.
Click Uninstall a program.
Remove WiseEnhance.
Windows 8
Press Win+R and enter control panel.
Click OK.
Select Uninstall a program.
Remove the unwanted adware program.
Windows XP
Click Start.
Select Control Panel.
Click Add or Remove Programs and uninstall WiseEnhance.
In non-techie terms:
WiseEnhance is an adware program that displays different types of advertisements on commercial and non-commercial websites. The application is supported by advertisers which are not controlled by WiseEnhance; hence, it is advisable to remove it from the PC. In order to remove the adware program, use the above-given removal instruction or implement a reputable spyware removal tool.