Do you know what WindowPromo is?
WindowPromo is an adware program that can seriously impede your web browsing habits by spamming you with annoying commercial ads. This application must have entered your computer with some freeware program you have recently downloaded from a third-party source. Although adware programs are not your worst nightmare, we do not recommended that you keep it. Therefore, scroll down to the bottom of this description for the manual WindowPromo removal guidelines. It is up to you to keep your computer safe and protected against similar threats in the future. If you need any assistance with that, we are always ready to help.
One look at the program's official site is enough to see that WindowPromo is a French adware application. The official homepage is located at window-promo.com, and one would expect it to be possible to download the application from that page, but that is not the case with WindowPromo. Clicking the Download button does not lead anywhere, and you are left staring at the user-friendly web layout that says you will be able to compare prices from various online shops and save money by suing the application. However, that is hardly possible seeing how dysfunctional the program is from the very beginning.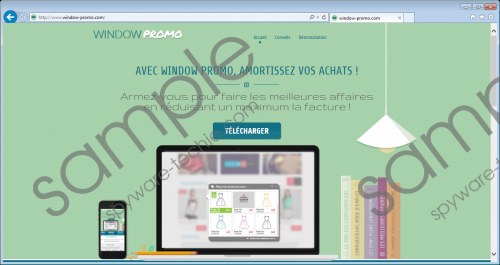 WindowPromo screenshot
Scroll down for full removal instructions
If it is not possible to download WindowPromo from the official homepage, we are left with yet another method of adware and freeware distribution: software bundling. Our researchers suggest that this application usually comes bundled together with such software as Emotiplus, which is a Skype emoticon pack. If you happened to have downloaded some application from an unfamiliar file-sharing website, it is very likely that the installer will carry some additional applications you need to avoid. Usually, it is possible to opt out of installing the likes of WindowPromo if you remain attentive during the freeware installation. However, seeing how many complaints we get regarding this application, we can assume that users seldom read what the installation wizards have to say.
WindowPromo is created by Development Media 73, so it is possible that other programs and infections developed by this team may also come bundled with this adware application. For instance, it would not be surprising to see Securery.com, or any other browser hijacker from the group, appear on your browser after you have installed the adware program. This just proves that, when you have to deal with an adware application, you need to scan your entire system to look for other potential threats. Rather than being immediate computer security issues, adware applications are great tell-tale signs that your system security could be at risk.
Luckily, it is not complicated to get rid of WindowPromo. The normal program removal method works just fine, so all you have to do is open the Control Panel and uninstall the application for good. Nevertheless, once again, we come back to the main adware distribution method, which allows us to assume there are more unwanted programs sneaking around.
In order to deal with them, run a full system scan with the SpyHunter free scanner. If a lot of malicious programs are detected, make sure you get rid of them using professional antispyware software. An automated spyware removal tool is always your safest bet, especially if you are not an experienced computer user.
How to Remove WindowPromo
Windows 10, Windows 8.1 & Windows 8
Press Win+R and the Run command prompt will open.
Enter "control panel" into the Open box and press OK.
Go to Uninstall a program and remove WindowPromo.
Windows Vista & Windows 7
Press the Windows key and open Control Panel.
Select Uninstall a program and remove WindowPromo.
Windows XP
Click the Start button and select Control Panel.
Go to Add or remove programs and uninstall WindowPromo.
In non-techie terms:
WindowPromo is an annoying application that will not allow you to browse the web the way you are used to. This adware program has been created to help its developers make easy money, and the app will make you help with that. Protect your computer and your personal information from potential issues by removing WindowPromo today. Should you need an alternative software removal method, please refer to the secondary set of instructions below the article.