Do you know what WindoWeather is?
WindoWeather is a potentially harmful application that you can run directly from your desktop. Unfortunately, apart from its basic function, i.e., showing you locally relevant weather information, it also displays potentially unreliable third-party advertisements. Since these may easily expose you to unsafe web content, we believe that this adware application is a threat source to your virtual security. Leaving it on your computer may result in more malware infections and less and less efficient system performance that might end up crippled before long. That is why we suggest that you remove WindoWeather as soon as you can say "adware infection." It is worth mentioning that such harmful programs and even more dangerous malware threats, such as Trojans, could not enter your computer, if you had up-to-date antimalware software guarding your PC. If your computer has such invaders from time to time, maybe it is time for you to think of a powerful solution to protect your operating system and your precious files and personal information you store on your hard drive.
According to our researchers, this adware has a promotional web page at windoweathertoday.com; however, you need to be careful with this site and we must warn you that its content may be malicious and therefore dangerous. At least that is what you are informed about if your computer is protected with a proper security tool when it blocks the page so it will not even have a chance to load. Otherwise, you can most probably visit this page without any problem and download this application. But what are the chances of such a program to spread on the web widely if it only has such a questionable web page?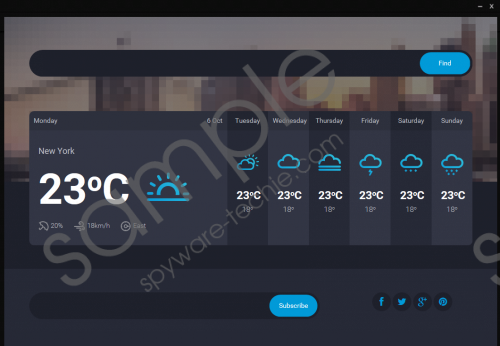 WindoWeather screenshot
Scroll down for full removal instructions
Reports show that in the USA this adware is also distributed bundled with malicious software installers. This means that you can infect your computer with a whole bunch of malware threats if you visit shady P2P sites, such as torrent and freeware sites, but you can also download such bundles while viewing pornographic sites. These web pages promote and display mostly unsafe third-party ads and links, which can be rather deceiving to inexperienced computer users or when you are visiting an unfamiliar website. One single click on such content is enough to drop a nasty package onto your hard drive and cause mild to severe system security issues. You need to steer away from questionable and unfamiliar websites if you want to protect your computer from unwanted invaders. It is also advisable not to click on any third-party ads because, as a matter of fact, you can never know where you might end up. If you are not sure how many malware threats you may have let land on your PC, you should run a system malware check right after you delete WindoWeather.
Our researchers say that this adware is quite similar to MovieDea and Playgem. When this useless application finds its way to your system, it creates certain registry keys to operate through and to make sure that it starts up together with Windows. This way you will always be exposed to its unreliable advertising campaign every time you switch on your computer or restart your operating system. Here are some of the keys it creates: HKCU\ SOFTWARE\WindoWeather, HKCU\SOFTWARE\Wow6432Node\WindoWeather, HKCU\SOFTWARE\Microsoft\Windows\CurrentVersion\Run|WindoWeather.
You can run this application by double-clicking its shortcut on your desktop. It has been noticed that this adware may show third-party ads every hour or so through its own application window. These seem to be mainly the kinds where you are offered to install "vital" driver updates for Flash or Java, which are, in reality, malware installers of course. But that is not all. This application can display ads through browser windows as well, either you have an active browser window open or not. What's more, this adware can show you locked browser windows, too. In other words, you will not be able to close those windows unless through the Task Manager. That is rather annoying and pushy as well. It is important to remember that third-party advertisements cannot be fully trusted in general. But when it comes to ads displayed by adware, such as this, you should be very careful with your clicks because you may land on unsafe websites. This adware may also spy on you and share the gathered information with remote servers, which it can contact without your permission, i.e., behind your back. This is how you can encounter relevant-looking ads that seem to match your style or taste. These ads are even more dangerous to click on because they can serve as bait in order for criminals to lure you to their infected or fake websites.
There is only one solution to escape the potential threats of visiting malicious websites and being scammed by cyber criminals: You need to remove WindoWeather. Or, in other words, if you want to keep your computer secure, you should throw WindoWeather out the window whether you like it or not. Although this adware seems to create a number of registry keys and files to support its operations on your computer, it also has a working uninstaller that seems to work just fine and does not seem to leave leftovers. Therefore, all you need to do is run this uninstaller through Control Panel. If you have never uninstalled an application, please use our instructions below as a reference. If you want to avoid similar malware attacks, we advise you to think about using a professional malware removal. You will have no real peace of mind until you implement proper protection.
WindoWeather Removal from Windows
Windows 8/Windows 8.1/Windows 10
Tap Win+Q and type in Uninstall a program.
Select the program and press Uninstall.
Windows Vista/Windows 7
Open the Start menu and pick Control Panel.
Choose Uninstall a program.
Select the program and press Uninstall.
Windows XP
Click Start and select Control Panel.
Click Add or Remove Programs.
Select the application and press Remove.
In non-techie terms:
WindoWeather is an annoying desktop application that can display potentially unreliable third-party ads either through its own window or your browsers. These advertisements hold virtual security threats since clicking on them is not always safe to say the least. It is quite possible that you get redirected to suspicious websites run by schemers. This way you may further infect your computer with malware or even become the victim of an online scam. Since this adware can also come in a bundle containing other malware installers, its presence is really bad news. We recommend that you remove WindoWeather right now and do the same with regard to all other threats as well. If you do not want to risk leaving any leftovers or infections on board by hunting them down manually, we believe that you should consider installing a reputable antimalware application that will keep you safe from all known malware threats.