Do you know what Wind Browser is?
Wind Browser is a suspicious program published by DevUnion Inc.; however, it is not a malicious infection that deserves immediate removal. Of course, we do recommend deleting this PUP (potentially unwanted program) because we do not believe that it is very useful or trustworthy. Although this PUP is introduced as a tool that is capable of providing antivirus protection and that works as an ad-blocker, we do not think that either of these services are authentic. In fact, our research team found Wind Browser to show ads, which is the opposite of what it should be doing. Since this program is introduced in Russian, it is not surprising that most of its users are based in Russia. Even the extension (Sovetnik Tesla) that comes pre-installed is Russian. Wherever you live, we can help you delete Wind Browser or learn more about it. Please continue reading, and, if you have more questions, start a discussion in the comments section below.
Most users download Wind Browser from its official website windbrowser.net. Here, this application is introduced as an interactive, fun, and highly beneficial tool that anyone can use. We are sure that most users are intrigued by this program because of the antivirus protection and ad-blocking abilities. As you already know, these services are not very reliable. Wind Browser is a Chromium-based browser, and we can easily say that it is the poorer version of Chrome. Tesla Browse, BoBrowser, Unico Browser, and many other browsers were built using Chromium, and neither of them equals to the original Chrome web browser. It is worth mentioning that Wind Browser takes on many of the features of the Chrome browser that could be installed on your PC. For example, it can employ the same tracking cookies that are already in the library of the active Chrome browser. Furthermore, it comes with a pre-installed hidden extension whose ID is "nmmhkkegccagdldgiimedpiccmgmieda." Although this extension does not show up in the Extensions list, it can be found in the Extensions folder under C:\Users\[your user name]\AppData\Local\Wind\User Data\default\.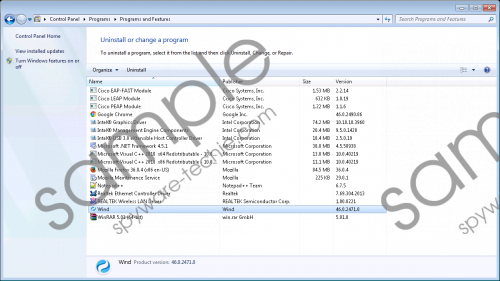 Wind Browser screenshot
Scroll down for full removal instructions
The extensions folder associated with Wind Browser also represents the Sovetnik Tesla (Советник Теслы) extension (ID goalojoobcfkhddpbjcmhdceeegmaphh). This extension is not very exciting, and the files associated with it do not provide any interesting information. What Sovetnik Tesla is meant to do is track your online shopping and provide you with the lowest prices. If you use Wind Browser for online shopping, it is most likely that this extension will show ads on online web store pages. The permissions of this extension include reading and changing your data on the sites you visit, as well as managing your "apps, extensions, and themes." Needless to say, these permissions are kind of extensive, and if you are not comfortable with unfamiliar tools operated by unfamiliar parties tracking you in this manner, it is best to delete this extension. If you want to remove Wind Browser-related extensions, you can check the guide shown below. Of course, you do not need to worry about this if you are going to remove the browser itself.
Wind Browser automatically sets itself as the default web browser without asking for permission, which can be worrisome. Fortunately, when installed, this application does not affect other browsers installed on your PC. The browsers itself is not extremely fun or interactive. The only feature that you might find attractive is the custom wallpaper selection. Other than that, this program is quite useless, and we believe that users will choose to delete it. When removing Wind Browser, you will be provided with the option to delete browsing data and choose the preferred default web browser. Make sure you do not miss these steps during the uninstall process, as it will make your life easier. Although it is unlikely that any components will be left behind after deleting Wind Browser, you have to inspect your PC for any leftover infections. Since this PUP could travel bundled with third-party software, it is important to make sure that it is not dangerous.
Delete Wind Browser
Delete from Windows XP
Navigate to the Taskbar and click the Start icon on the left.
Open Control Panel and go to Add or Remove Programs.
Select the undesirable program and click Remove.
Delete from Windows Vista or Windows 7
Move to the left of the Taskbar and click the Windows logo.
Open the Control Panel menu and move to Uninstall a program.
Right-click the application you wish to remove and choose Uninstall.
Delete from Windows 8 or Windows 10
Simultaneously tap Win+R keys to launch RUN.
Enter Control Panel to open the menu and click Uninstall a program.
Right-click the program you wish to remove and click Uninstall.
Delete Sovetnik Tesla
Open the browser and tap Alt+T.
Select More tool and go to Extensions.
Click the trash button and select Remove.
In non-techie terms:
It is obvious that Wind Browser is not the most malicious infection; however, there is no point in keeping it on your PC, especially if you already use Google Chrome. This program uses tracking cookies and collects data about you, and, even if that does not lead to security problems, it is wise to delete this PUP. If you want to remove Wind Browser and Sovetnik Tesla manually, we have provided you with the instructions above. If you scan your operating system – which is what we strongly recommend – and you find third-party malware, we advise implementing an automated malware remover as well.