Do you know what Webwebweb.com is?
Our security researchers identify Webwebweb.com as a legitimate browser plug-in that makes use of Google search results in order to provide a tailored search engine. Some users may think that Webwebweb.com is a browser hijacker, because it can modify browser settings, changing default homepage and search engine to search.webwebweb.com. However, it is very common for third party browser extensions to make use of Webwebweb.com for their own functions, but browser hijacking is not the case. Thus, to remove Webwebweb.com from your computer, you need to remove the plug-in responsible for it first.
It is sometimes hard to determine whether an application is malicious or not. Webwebweb.com is often mistaken for a browser hijacker, but the truth is that this search engine is often used by Video Downloader Professional browser extension. When a user has this extension installed on his/her computer, Webwebweb.com is employed as a search engine for users who make use of the extension to search for various videos.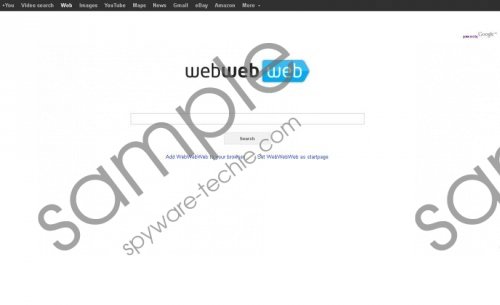 Webwebweb.com screenshot
Scroll down for full removal instructions
The thing is that everything is legitimate, and the owner of both Video Downloader Professional and Webwebweb.com is Link64 GmbH, a company based in Germany. What is more, the extension which distributes Webwebweb.com can be found at Google Chrome Web store and Mozilla Firefox add-on directory. They can also be downloaded at startpage24.com, which is also developed by Link64 GmbH.
Whenever you download a plug-in from the aforementioned website, your search engine will be changed to Webwebweb.com or Startpage24 (which, in turn, will also redirect all of your search queries to Webwebweb.com). However, it should be pointed out that all the settings modifications are performed with user's consent, and user is prompted every single time a change is about to be made.
Hence, if Webwebweb.com gets installed onto your computer and you have no idea how it happened, you most probably have skipped several setup steps while installing Video Download Professional or any other related browser extensions. At the same time, Webwebweb.com can be easily removed from your computer, because there is nothing wrong with the search engine, and it does not try to remain on your system for as long as possible.
To remove Webwebweb.com, you can disable the search engine via plug-in's settings. If that is not enough for you, you can also remove the extension via Control Panel and/or browser's settings, and Webwebweb.com will disappear automatically as well.
Follow manual removal instructions below to get rid of Webwebweb.com, and if you have any questions about this search provider or your computer security in general, you can always leave us a comment and we will reply as soon as possible.
How to remove unwanted application
Windows 8
Move mouse cursor to the bottom right corner of the screen.
Click Settings on Charm bar and go to Control Panel.
Select Uninstall a program and remove unwanted application.
Windows Vista & Windows 7
Open Start menu and select Control Panel.
Go to Uninstall a program and remove unwanted applications.
Windows XP
Click Start menu button and navigate to Control Panel.
Select Add or remove programs and uninstall unwanted apps.
Remove extensions from your browser
Internet Explorer
Press Alt+X and click Manage add-ons.
Remove unwanted plug-in from Toolbars and Extensions.
Mozilla Firefox
Press Ctrl+Shift+A and Add-ons tab will open.
Disable and remove unwanted plug-in from Extensions.
Restart browser.
Google Chrome
Press Alt+F and select Tools.
Go to Extensions and remove unwanted plug-ins from the list.
In non-techie terms:
Webwebweb.com is often mistaken for a browser hijacker, because it gets set as your default homepage and search engine. However, you can easily remove Webwebweb.com from your computer if you terminate the browser plug-in that is making use of Webwebweb.com.