Do you know what WebWatch is?
We have received complaints from various people that WebWatch is a fake application that poses as a web tracking monitor, but actually displays third-party advertisements of questionable legitimacy. Therefore, we suggest that you remove WebWatch. As you probably know, adware applications are undesirable, because they are annoying, and promote ads that install more adware and other malware, and can even slow down your computer and in some cases grind it to halt before the system crashes. Our knowledgeable researchers tested this program and determined that it also keeps tabs on your browsing activities. So if you disapprove of the above mentioned "features," then you ought to remove this program at your earliest convenience.
WebWatch has been released by a mysterious software developer that has recently unleashed malicious programs such as Plants Vs Zombies, Email Tracker, and others. Even though the aforementioned applications including WebWatch appear to be owned by different companies, the physical email box is located at the same address The Valley, St. George, BB19000, Barbados. This developer always makes sure to create a dedicated download website to distribute their programs. WebWatch can be downloaded from Usewebwatch.com and we hear that this is the place where most users get it. It is also worth mentioning that this application can also be found bundled with malicious applications and featured on little-known freeware distributing websites.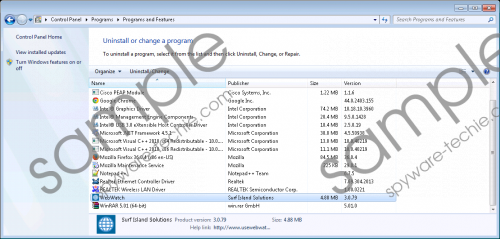 WebWatch screenshot
Scroll down for full removal instructions
WebWatch's website makes the bold statement that "You are not secure. Nobody is!" The company's fake philosophy suggests that watching is the first step to a greater level of security. So they claim that you will be safer by observing the "mysterious forces" that keep tabs on you. There is no mention of browser cookies or spyware anywhere on their website, which makes it unclear, who and how is supposed to track you? Tests have proven that this application does not work and only serves the interests of its developers by displaying third-party advertisements which make them money. You on the other hand will have to deal with the inconvenience of viewing the ads that come in the form of banners, coupons, pop-ups, pop-unders, in-texts, videos, and so on.
Ironically, WebWatch has been set up to gather information about you which is used for advertising and marketing purposes. It Privacy Policy states that it gathers information, such as the contents of your browser's URL history, your IP address, your browser type, your operating system, web pages you view, links you click, and so on. The developers use browser cookies web beacons and other means of data collect to acquire information when you visit their website. If that is not tracking then we do not know what is.
If you were unfortunate to download and install this application, then we suggest that you delete it as soon as possible. It is true that cyber security is very important, but allowing malicious applications to enter your computer does not contribute to it. Displaying unreliable ads and keeping tabs on your browsing activities is a good enough reason to remove this application, and we very much encourage it, so if you are ready – take action.
Remove WebWatch from the operating system
Windows XP
Open the Start menu and click Control Panel.
Open Add or Remove Programs.
Find the unwanted application and click Uninstall.
Windows 7 and Windows Vista
Open the Start menu and click Control Panel.
Select Uninstall a program.
Find the unreliable software and right-click on it.
Click Uninstall.
Windows 8 and Windows 8.1
Navigate the mouse cursor to the bottom right corner of the screen.
Open the Charm bar.
Click Settings and select Control Panel.
Open Programs and Features.
Find the program and right-click on it and click Uninstall.
Windows 10
Right-click on the Windows Start menu logo.
Select Programs and Features.
Find the application and right-click on it.
Click the Uninstall button.
In non techie terms:
WebWatch is an adware application that has been developed by a shady and unreliable software developer. It claims to provide information about who is tracking you, but this application does not do this in real life. It has no interface, and our researchers have deemed it adware for it only serves the interests of its developers and renders third-party ads which are unreliable in nature and might cause you some problems. So we are of the opinion that you ought to remove is ASAP.