Do you know what websearch.toolksearchbook.info is?
Websearch.toolksearchbook.info is a search engine and it is categorized as a browser hijacker because of its capability to take control of your browsers. Websearch.toolksearchbook.info is distributed by free applications and the changes are likely to be made without any warning, which implies that you should not trust every single free program that you come across. The search engine is known to spread by EZDownloader, which is a free program that is distributed alongside adware and potentially unwanted programs. It is advisable to act immediately in order to remove Websearch.toolksearchbook.info. The sooner you eliminate the intruder, the sooner you can browse the Internet as usual.
Websearch.toolksearchbook.info should be removed from the system because of its advertisement and sponsored links, none of which is endorsed by the developers of the search engine. When websearch.toolksearchbook.info replaces the home page, you have no choice but to see annoying advertisements encouraging you to lose weight, play online games, download a computer or visit an online shop. You may notice that those advertisements are not related to your search terms; however, some search-based paid advertisements may be displayed on the search engine results page. Since websearch.toolksearchbook.info is not liable for the content of the websites that are displayed, you may accidentally land on some insecure websites. Corrupted websites can be promoted in the same way as any legitimate website is promoted, and you should do everything to avoid such insecure domains. If you access a website that you do not know but would like to acquire something from it, first make sure that you can trust it. If the seller or the service provider you want to deal with is unreliable, do not disclose your personal information and do not download any computer applications.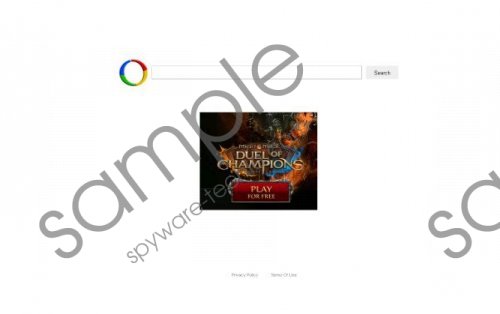 websearch.toolksearchbook.info screenshot
Scroll down for full removal instructions
One of the ways to reduce the risk of getting the computer infected is by eliminating websearch.toolksearchbook.info from the PC. Not only will you get rid of annoying advertisements; you will also prevent the search engine from monitoring you. However, manual removal may be insufficient, especially if the search engine employs more than one tracking technique. Hence, in order to fully remove websearch.toolksearchbook.info from the computer and your browsers, you should use a powerful spyware removal tool. Our team recommends using SpyHunter because it can fix your browsers and shield the system from multiple threats. You will be protected from Trojan horses, adware programs, other browsers hijackers such as websearch.searchsunmy.info, and many others.
How to remove websearch.toolksearchbook.info
Internet Explorer
Press Alt+T.
Click Internet Options.
Open the Advanced tab.
Click Reset.
Check the box and click the Reset button.
Click Close.
Mozilla Firefox
Press Alt+H and click Troubleshooting Information.
Click the Reset Firefox button.
In the active dialog box, click Reset Firefox and then click Finish.
Google Chrome
Press Alt+F and click Settings.
In the On startup section, click on the last option and select Set pages.
Set a new startup page.
In the Search section, click Manage search engines and set a new search provider.
In non-techie terms:
Do not forget to implement a reliable scanner once you eliminate websearch.toolksearchbook.info from the browsers. The scanner available below will help you to find out what changes have to be made within the system, so do not wait but act now to get rid of the browser hijacker.
Aliases: websearch Virus.