Do you know what websearch.fixsearch.info is?
Websearch.fixsearch.info is yet another browser hijacker that could easily infiltrate your operating system if you are not careful on the web. The major indication that his hijacker is present on your operating system is a sudden change of your default home page and search engine. If you find websearch.fixsearch.info present on your PC, do not hesitate and remove it. It is a major virtual threat that could be the reason other infections could enter your system easily. Furthermore, it could expose you to dubious websites that might promote suspicious software. Thus, it is oblivious that websearch.fixsearch.info is not only annoying but dangerous as well. The research team at Spyware-Techie.com has crafted a removal guide that is easy to use and will delete websearch.fixsearch.info in no time.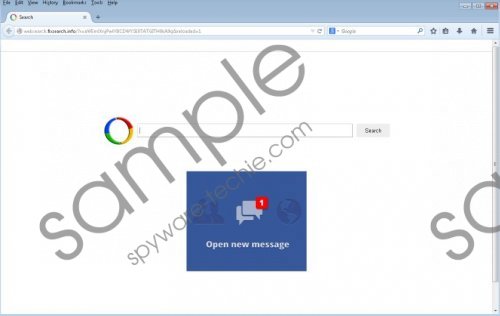 Websearch.fixsearch.info screenshot
Scroll down for full removal instructions
Often infections like websearch.fixsearch.info are distributed via bundled installers. Such installers filled with numerous suspicious applications are mostly obtained on dubious third-party download websites. Ignore such websites and download your software from official websites only. In order to prevent websearch.fixsearch.info or any other infection from entering your PC you should install a powerful malware detection and removal tool.
As soon as websearch.fixsearch.info enters your system your default search engine and home page will be changed without authorization. This could be quite annoying as you would not be able to use your desired search engine. Moreover, the hijacker also implements a browser extension along. The extension is used in order to display third-party commercial adverts. That could also be very frustrating. However, there is so much more about websearch.fixsearch.info that is alarming. These adverts and the results provided by websearch.fixsearch.info search engine might be inserted with redirect links. Thus, by clicking on an advert or a search result you could be redirected to potentially malicious websites. It is plausible that you could land on a fake online shop. Such websites are crafted by cyber crooks in order to steal your sensitive data. It is quite obvious that running websearch.fixsearch.info on your system could be extremely detrimental. Do not hesitate and remove websearch.fixsearch.info ASAP. You will not only regain the normal functionality of your browser but your virtual security will also be restored.
The removal of websearch.fixsearch.info is rather simple. Keep in mind that you should execute the removal process carefully as just one mistake could mean that the hijacker was not removed entirely. In such case some files or registry keys associated with websearch.fixsearch.info could remain on your system. These leftovers could cause your system to slow down and even worse – could be used by other infections as a gateway into your PC.
Remove websearch.fixsearch.info from your PC
Remove websearch.fixsearch.info from Windows 7 and Windows Vista
Click the Windows button and select Control Panel.
Now click Uninstall a program.
Select MySearch and click Uninstall.
Remove websearch.fixsearch.info from Windows 8
Access the Metro UI menu.
Right-click on the background and select All apps.
Now select Control Panel and click Uninstall a program.
Now double-click MySearch to remove it.
Remove websearch.fixsearch.info from Windows XP
Click the Start button and select Control Panel.
Select Add or Remove Programs.
Now select MySearch and click Remove.
Remove websearch.fixsearch.info from your browsers
Remove websearch.fixsearch.info from Mozilla Firefox
Open your browser and tap Alt+H.
Click Troubleshoot Information.
Now click Reset Firefox.
Click Reset Firefox again and the click Finish.
Remove websearch.fixsearch.info from Internet Explorer
Open your browser and tap Alt+T.
Now click Internet Options.
Select the Advanced tab.
Now click Reset.
Click Close.
Remove websearch.fixsearch.info from Google Chrome
Open the browser and tap Alt+F and point to Tools.
Click Extensions.
Remove the malicious extension.
Click Settings.
Under the on Startup select Set pages.
Now remove websearch.fixsearch.info and enter a new website.
Now under the Search section click Manage search engines…
Select a new default search engine by clicking Make default.
Then remove the malicious search engine by clicking X over it.
In non-techie terms:
It is important to realize that websearch.fixsearch.info or any other hijacker could cause a lot of trouble if not removed properly and in time. If you think that manual removal is too complicated, please follow the instructions below.