Do you know what WebScan PRO is?
WebScan PRO might sound like a program that scans the web in a professional way – whatever that may mean – but, unfortunately, our researchers have found that this is just another ad-supported application that may expose you to unreliable websites. As a matter of fact, this adware is identical to HealthcareGovTool and SecurityPatchUpdater, which are also applications that have nothing to do with their names. This adware may be annoying with its coupons, best offers, and pop-up ads, but clicking on them could cause you even more headaches. According to our researchers who tested this infection in our internal lab, you should remove WebScan PRO before you find yourself on a malicious website and become the victim of a scam. Please continue reading our full report to get the details about the risks this malware may hold for you and your computer.
Our researchers have not found a promotional website for this adware where you could find information about the alleged application or a way to download it as a standalone installer. This can only mean that WebScan PRO may be spread in freeware bundles. You may already know that bundling is a questionable method of distribution since a bundle may be packed with malware programs. Since these infected bundles are mostly hosted on shady freeware and torrent websites, you should try to avoid these and stick with reputable and official websites for downloading free software. You can easily infect your machine if you end up on an unfamiliar website and you click on a fake button or a pop-up ad there. If you want to make sure that your system is clean, after deleting WebScan PRO you should run a malware scan to see if there are any other infections present.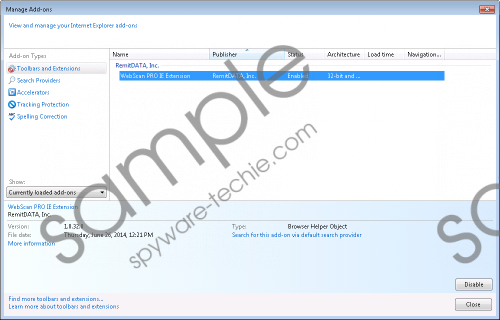 WebScan PRO screenshot
Scroll down for full removal instructions
WebScan PRO is a good-for-nothing application, although it is definitely good for its creators to generate some easy money for them. As a matter of fact, the only goal of this adware is to generate web traffic to affiliated websites by making you click on its ads. One of the techniques used by this adware is to display customized coupons, offers, and ads, based on the information this application can collect about you through your browsing history, web cookies, etc. However, you cannot trust any ad even if it shows you the most relevant product to you at the lowest price possible, because it may still be a scam, and you may get redirected to a malicious website. This is how most online scams start. While you may think that you can resist the temptation of clicking, we believe that you should remove WebScan PRO ASAP.
It is not too easy to eliminate this malware infection because its uninstaller only removes the extension from Internet Explorer. So even if you run the uninstaller in Control Panel, you will still have to manually take care of the remaining two extensions in Mozilla Firefox and Google Chrome. You can use our guide below if you need help with these steps. If you are not really the manual type, we can offer you an automated solution as well. We recommend that you download and install SpyHunter, which is a trustworthy and powerful antimalware program, and let it take control of all your security-related issues. Protect your PC today if you do not want to face malware infections again.
Remove WebScan PRO from Windows
Windows 8/Windows 8.1/Windows 10
Tap Win+Q and type in Uninstall a program. Press Enter.
Select the program and click Uninstall.
Windows Vista/Windows 7
Tap Win+R and enter Control Panel. Click OK.
Click Uninstall a program.
Select the application and click Uninstall.
Windows XP
Open the Start menu and select Control Panel.
Click Add or Remove Programs.
Select the program and click Remove.
Remove WebScan PRO from browsers
Mozilla Firefox
Tap Ctrl+Shift+A and choose Extensions on the left.
Select the extension and click Remove.
Google Chrome
Access the menu and choose Settings.
Select Extensions on the left.
Remove WebScan PRO from the list.
In non-techie terms:
WebScan PRO is a useless adware application that may infect your computer through a freeware bundle that you may download from a suspicious file-sharing website. You need to be careful with such a bundle because it may also be packed with other malware infections. This adware may put your system health at risk by showing you potentially harmful third-party advertisements that might redirect you to unreliable websites. If you want to protect your computer from more harm, you should remove WebScan PRO as soon as possible. We suggest that you install a trustworthy malware removal tool in order to safeguard your system from all the threats hiding on the Internet.