Do you know what Webbora is?
Webbora is a rather exotic piece of programming coming from South Korea. We at Spyware-techie.com did some research, and came to the conclusion that users should remove this application from their computers, because it is a mere adware application. Little is known about this application at this time, but our research suggests that it might redirect users to malicious websites. These kinds of websites often contain malicious downloads, such as browser hijackers, ransomware, and various other kinds of malware.
Although this infection is from South Korea, little else is known about its origins. The designated publisher of the infection is called Internet Webbora web. There is no information, however, whether the application is distributed via software bundles. For the time being, the application is known to be distributed exclusively via its main website at Webbora.com. The website does contain instructions on how to remove the application, but there are in the Korean language, so it might confuse non-Korean users. As always, we have composed a manual removal guide in English at the bottom of the article.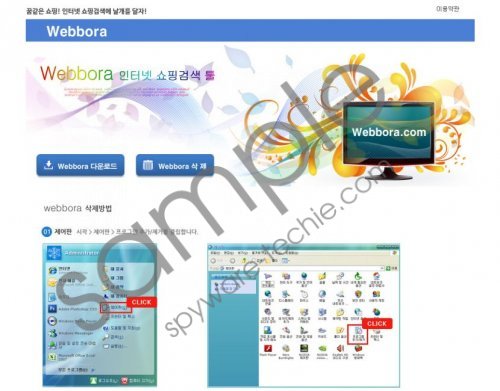 Webbora screenshot
Scroll down for full removal instructions
If you get your computer infected with Webbora, it will automatically connect itself to the Internet and begin displaying various commercial advertisements. To our knowledge, the ads will be shown in the Korean language, so that is an obvious indication that the advertisements are not legitimate. It is also worth mentioning that the infection is compatible with the tree most widely used web browsers. Microsoft Internet Explorer, Google Chrome, and Mozilla Firefox will be affected by this infection. There is no use going to the browser settings to remove the infection, because it does not operate as an extension. If you are not sure whether your computer has been infected with Webbora right-click on the task bar and open the Task Manager. Select the Processes tab and look for a process named webbora.exe*32.
You ought to remove this infection, because there is no way you can determine whether the advertisements are legitimate or not. Plus, all of the ads are in the Korean language so there is no reason for non-speakers to keep it. On top of that, the advertisements are annoying, and might even be dangerous to your system's security. If you accidentally click an ad, you might get redirected to an infected website, which in turn might initiate a download. If you accidentally accept the download, you might get your computer littered with malicious applications that you will have to remove. All of these unfortunate circumstances might land you in deep trouble. So we encourage everyone to remove this application first.
It is obvious that this exotic piece of malware is not worth keeping on your computer. The risk is too great. The advertisements might only seem to be annoying, but there is no way of knowing where they might land you if you choose to click one. So please refer to our guide that will help you manually remove Webbora.
How to remove Webbora
Windows 8 and Windows 8.1
Move the mouse pointer to the lower left corner of the screen and open the Start Screen.
Type Uninstall in the search box and select Settings.
In the search results, click Uninstall a program.
Locate Webbora.
Click Uninstall.
Windows 7 and Windows Vista
Open the Start menu.
Select the Control Panel and click Uninstall a program.
Locate Webbora, right-click on the program.
Click Uninstall.
Windows XP
Open the Start menu.
Open the Control Panel.
Click Add or Remove Programs.
Locate Webbora and click Uninstall.
In non-techie terms:
Webbora is an adware program developed in South Korea. It displays pop-ups that are annoying and intrusive. The ads are likely to be in the Korean language, so there is no reason for non-Korean speakers to have this application installed. Furthermore, the ads promoted by the program might redirect you to malicious websites that could put your computer's security in jeopardy if you download anything from them. So we recommend that you remove the infection as soon as possible.