Do you know what WebAdSystem is?
WebAdSystem is an adware program that is created by KalityWeb. This program targets computer users in French speaking countries and it has its own homepage at webadsystem.com. According to our security research upon the installation WebAdSystem adds extensions to Internet Explorer and Mozilla Firefox web browsers. However, this program also uses a proxy that works on Google Chrome as well. In short, the adware application presents a variety of computer security issues, so your best choice in this situation would be removing WebAdSystem from your PC altogether.
The main promotional tag line for WebAdSystem, obviously, says that it can help you save money when you shop online. Such adware applications are in abundance. WebAdSystem says that can check a great number of web stores "without effort on your part" and it can then provide you with relevant shopping information. As a result, you should be able to purchase your favorite goods at a lower price, but those kinds of promises are seldom kept. In fact, adware programs can cause more harm than good, so you should seriously think about deleting WebAdSystem right now.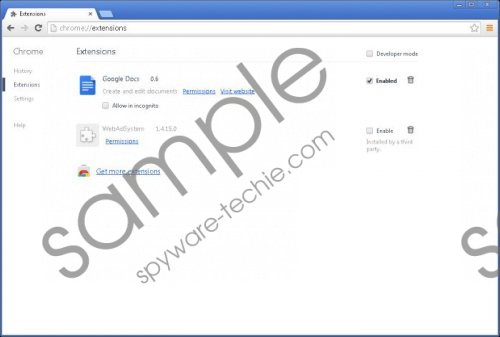 WebAdSystem screenshot
Scroll down for full removal instructions
You also have a reason to assume that there is more than just one adware application on your computer. As we have mentioned in the first paragraph, WebAdSystem has a homepage at webadsystem.com. However, it is very unlikely that computer users download adware directly. In fact, the most common method of adware distribution is bundled downloads. It means that a set of programs travel together in one file. Users often download bundled programs from third-party websites. WebAdSystem might also be hiding behind fake upgrade pop-ups that offer you to update your Adobe or Flash plug-ins.
What is more, sometimes users do not even notice that they install unwanted applications, because they skip installation steps to setup programs as fast as possible. Thus, we can say that if WebAdSystem enters your computer, it is partially your fault.
Some users may claim that WebAdSystem is not dangerous and it is true in a way that this program does not intend to infect you with malware. But we have to remember that adware apps are often exploited by cyber criminals. You have to consider the possibility that WebAdSystem could display ads with corrupted content. Clicking corrupted ads would lead you to an affiliate website that promotes adware or intends to generate more traffic for financial purposes.
There is no use of having WebAdSystem on your computer, so the sooner you get rid of this app the better. Uninstall WebAdSystem via Control Panel and scan your PC with SpyHunter free scanner to ensure that your system is protected against similar threats.
How to remove WebAdSystem
Windows 8
Move mouse cursor to the bottom right of the screen.
Go to Settings on Charm bar and click Control Panel.
Select Uninstall a program and remove WebAdSystem.
Windows Vista & Windows 7
Open Start menu and click Control Panel.
Go to Uninstall a program and remove WebAdSystem.
Windows XP
Click Start menu button and navigate to Control Panel.
Select Add or remove programs and uninstall WebAdSystem.
If something does not go according to a plan, you can also try the secondary set of removal instructions below this article. Do not hesitate to leave us a comment if you have any further questions.
In non-techie terms:
WebAdSystem is a potentially unwanted adware program that displays commercial pop-ups. It may be responsible for a number of potential security threats, so you ought to terminate this application immediately.