Do you know what Web Amplified is?
The main goal of Web Amplified is to display advertisements, and thus generate the pay-per-click revenue for third-parties. It is suggested that you remove this advertising-supported program because, unlike the official site mywebamplified.com promises, it will not improve your online experience. Web Amplified is targeted for the users who seek best online deals and prices; thus, if you are not much of an online shopper, you should terminate this application from your system. Adware applications, Web Amplified included, are also generally deleted because they are known to expose computer users to corrupted sites that contain malware.
When Web Amplified gains access to your system, it starts gathering information about your web surfing habits. This information is then used to personalize commercial content on your Internet browser. This Web Amplified content might pop up into your screen whenever you access such online retailers as Amazon.com, eBay.com, BestBuy, or others. However, even if you find this content relevant, you should remove this app from your machine because clicking on the ads might transfer you to unsafe sites.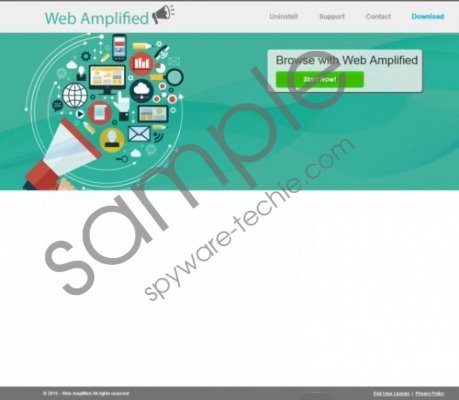 Web Amplified screenshot
Scroll down for full removal instructions
The official site barely provides any information about Web Amplified and what this app supposed to do. Besides inactive download button, the site does not contain any material that would allow you learn more about this app or its developers. The way Web Amplified is promoted might seem suspicious, so it is best that you delete this app from your machine. The official documentation on the site also states that Web Amplified is not liable for the third-party content that you access via the advertisements. In other words, if you get infected through the Web Amplified-promoted links, this application will not be legally responsible. There is no reason why should keep this app on your system, so remove it in order to make your online surfing safer.
As the application is not accessible through the aforementioned official site, you might infect your machine with Web Amplified by downloading content from torrent or other file distribution sites. Just like Strong Signal, Dollar Dream, Pine Tree, and other applications from the SuperWeb family, Web Amplified reaches target computers bundled with free software. Usually users themselves accidentally install this application because they rush to complete the installation without paying attention to the installation process. If you failed to uncheck the unwanted applications on the installation wizard, it might be possible that you will need to remove not only Web Amplified, but also other unwanted or malicious programs.
Web Amplified is a completely useless application what might turn into a security issue if you delay to get rid of it. You can terminate this program from Control Panel, and that should be enough to wipe out this application completely. There might be cases when Web Amplified is accompanied with additional applications that can be harmful to your system. Therefore, install a reliable antimalware application what will clean up all the threats and ensure that your computer is secured in the future.
Remove Web Amplified from your system:
Windows 8 & 8.1:
Press the Windows key + X and choose Control Panel in the menu.
Under View by, switch to Category.
Go to Uninstall a program and select Web Amplified.
Click Change/Uninstall.
Windows Vista & 7:
Open the Start menu and choose Control Panel.
Under View by, choose Category, then click Programs, and then go to Programs and Features.
Find Web Amplified in the list and click Change/Uninstall.
Windows XP:
Open the Start menu and choose Control Panel.
Open Add or Remove Programs and select Web Amplified in the program list.
Click Uninstall.
In non-techie terms:
Web Amplified is an adware application that can inadvertently put your system in danger. The ads this application shows on your browser can take you to malware distribution sites where Trojans, worms, or other infections, might try to gain access to your system. In order to remove this application from your computer, invest in reliable security tools that would work as a safeguard from the Internet-based infections.