Do you know what Weatheritup is?
Weatheritup seems to be a useful application that would provide you up-to-date information on your local weather conditions. However, we are forced to label this application as adware, due to the fact that it is created based on Crossrider engine, and Weatheritup seems to be closely related to Jollywallet adware program. It would be in your best interest to remove Weatheritup from your computer, because you can never know what malevolent third parties might exploit Weatheritup to distribute commercial content or expose you to unsafe websites.
At first glance Weatheritup looks like a genuine browser extension that you can install and uninstall whenever you please. Technically, it should be so, but it is necessary to point out that weatheritup.com is not the only source of distribution. It is the main homepage for this application and there you can read more information on Weatheritup. The promotional information at the homepage claims that Weatheritup has been designed to be compatible with Mozilla Firefox browser. Nevertheless, the application can also be installed on Google Chrome and Internet Explorer as well.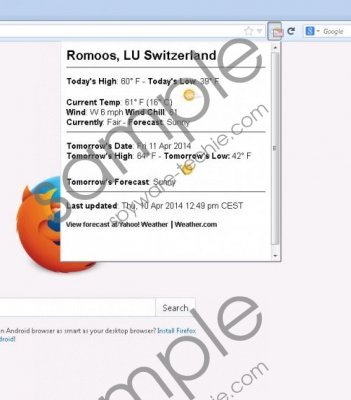 Weatheritup screenshot
Scroll down for full removal instructions
Despite the fact that Weatheritup does not offer entirely accurate information on its homepage, the thing that concerns security experts the most is the program's association with Jollywallet adware application. So far Weatheritup has not been recorded to display commercial advertisements or interfere in your web browsing process, but based on some reports Weatheritup might be the Jollywallet itself.
We need to understand that adware applications are not direct computer security threats, and for the most part we are able to choose whether we want to accept the information and data provided by it or not. However, adware programs often have extremely loose security regulations and thus they become perfect tools for unwanted content distribution.
The same can be applied to Weatheritup as well. Although the application does not seem to be displaying commercial advertisements, it can still connect to the internet without your direct permission. Weatheritup collects personal non-identifiable information such as your system data and your location to generate your online profile and then provide you with relevant weather forecast. The problem, however, is that the information collected by Weatheritup may also be used for marketing purposes. In the long run it might make your system vulnerable to various outside threats.
Thus, you need to nip this problem in the bud and remove Weatheritup from your PC. Follow the manual removal instructions below, and then scan the system with a licensed antimalware tool to make sure that you have no other unwanted applications on board.
Uninstall Weatheritup
Windows 8
Slide mouse cursor to the bottom right of your desktop.
When Charm bar appears, click Settings and go to Control panel.
Open Uninstall a program and remove Weather it up.
Windows Vista & Windows 7
Open Start menu and go to Control Panel.
Click Uninstall a program and remove Weather it up.
Windows XP
Click Start menu button and open Settings.
Go to Control Panel and select Add or remove programs.
Uninstall Weather it up.
In non-techie terms:
Weatheritup is a potentially unwanted application that should not be installed on your computer due to its associations with adware applications. The application may even slow down your browser so it is for the best to remove Weatheritup from your computer immediately.