Do you know what Weather Do is?
If you have Weather Do on your computer, we have bad news for you unfortunately. This desktop application is a new clone in a growing family of adware programs that include FamilyGurus, LeadingVideos, and BlingJobs, to mention only some of the latest "inventions" from the same creators. This application pretends to be a useful weather forecast program, but, in reality, it does nothing more than promoting weather-related websites in its own window and it may also show potentially unsafe third-party advertisements. In short, this adware can introduce you to unreliable web content that can be connected to cyber criminals. Keeping this program on your computer may cause several system security issues, not to mention the fact that the presence of this adware may also indicate that there are a number of other infections on board, too. According to our researchers, you should remove Weather Do if you want good for your PC. Please read our full article to learn more about this malware and how you can get rid of its annoying promotions.
This worthless application has a rather suspicious webpage at weatherdo.com, which you cannot even load if you have a security tool installed because this page gets blocked right away. Of course, if your PC is not protected, you may be able visit this site and even download the installer. But we advise you against it. As a matter of fact, this installer contains a number of malware infections, including Search Know, Sweet-page.com, and MyPcBackUp. It seems that the bundled malware programs may change from region to region and also with time. However, as you can see, you may install adware programs, browser hijackers as well as potentially unwanted programs. This way, your exposure to unsafe web content and to criminals increases exponentially. This is rather suspicious behavior that should not be tolerated. If you have this adware on board, you should remove it right away.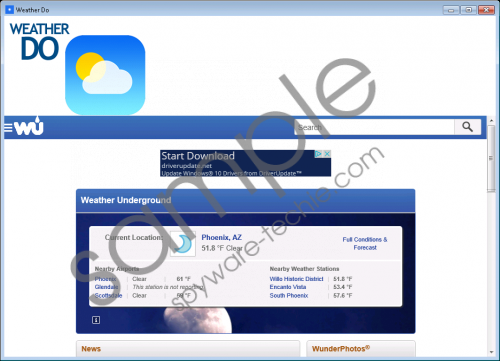 Weather Do screenshot
Scroll down for full removal instructions
But, of course, this is not the only way for this application to appear on your computer. In fact, we do not think that too many computer users would find this promotional page anyway. Most probably the creators know this too and that is why they tend to use alternative routes to unsuspecting users' computers. The most common ways include clicking on download offers, i.e., unreliable pop-up ads, and clicking on modified search results displayed by browser hijackers. Both of these cases require the presence of malware infections, such as an adware program and a browser hijacker at least. So it is quite obvious that no matter how this adware shows up on your computer, you are facing multiple system security threats. This situation cannot be easily solved manually since you have to remove Weather Do and all the other infections as well in order to clean your system and make it secure again.
When you start up this application it does two things. First, it opens its window, which has a large logo in the top-left corner, and loads a promoted, usually legitimate website, such as wunderground.com. Second, it also launches Internet Explorer and loads a promoted website. These websites usually host a few potentially unreliable third-party ads and this adware may also start showing advertisements of affiliated websites. Engaging with such ads is always risky. We do not advise you to click on anything related to this application because you may find yourself on malicious websites. In fact, even its own promotional page is filled with third-party ads. Keep in mind that all online scams start with a click; one single click on the wrong advertisement. Therefore, if you do not want to become the next victim in an online fraud or infect your PC with more malicious programs, we advise you to delete Weather Do right now.
The one and only good thing, the so-called silver lining, in the case of this useless program is definitely its uninstaller. This uninstaller seems to do a good job and clears all the mess this adware may have created on your system. Therefore, we can offer you the easiest way to get rid of this adware. Locate its uninstaller in the list of installed programs in Control Panel and activate it. That is all you have to do to free your computer of this program. Please use our instructions below as a reference if you are not familiar with this process. However, keep in mind that most likely there are other unwanted and harmful programs on your machine. Therefore, we recommend that you use a trustworthy anti-malware in order to detect and erase all present infections as well as safeguard your operating system and your files from future attacks.
Weather Do Removal from Windows
Windows XP
Click the Start button and select Control Panel.
Open Add or Remove Programs.
Click on the program and press Remove.
Windows Vista and Windows 7
Tap Win+R and enter control panel. Press OK.
Access Uninstall a program.
Click on the program and press Uninstall.
Windows 8, Windows 8.1, and Windows 10
Tap Win+Q and enter Uninstall a program. Press Enter.
Click on the program and press Uninstall.
In non-techie terms:
Weather Do is a potentially harmful desktop program that may expose you to unreliable third-party web content, including websites and advertisements. Clicking on any content provided by this ad-supported application may be risky and therefore not advisable. Unfortunately, even the officially promoted installer of this adware contains several well-known infections, so its presence – however it entered your computer – is rather undesirable and risky. In order to restore the security on your system, we suggest that you first remove Weather Do and then all other possible threats as well. If you do not want to find and eliminate all these infections manually, we advise you to use a reliable malware removal application that will also protect your PC from any further malware invasions.