Do you know what Weather Chickn is?
Weather Chickn is supposed to work as a weather forecast tool, but according to our security specialists, it might gather particular user information, share it with third-party companies and use it to bring you targeted ads. This unwanted behavior is one of the reasons the application was classified as a potentially unwanted program (PUP). Users who are concerned about their computer security should remove this doubtful application at once. Mainly, the deletion is recommended because the program might download upgrades, new versions, adware, and other potentially harmful software without your permission. Also, it could redirect you to third-party web pages that could gather your sensitive information or infect your computer with malware. We have tested this PUP in our internal lab, and if you keep reading the article, you will learn more about the Weather Chickn's working manner.
The official site of the PUP can be entered through this address: weatherchick.weebly.com. The only useful thing on the website is a link to the End User License Agreement (EULA) and Privacy Policy documents. Also, there is a "Contact" section, but we do not advise you to use it because you would have to submit your private information to the untrustworthy program's creators.
The application's Privacy Policy states that Weather Chickn does not try to collect your personal identifiable information (PII), but it would be collected if you submit it yourself, e.g. while contacting the creators via email. To be precise, it says that "we may collect personal identifiable information ("PII"), such as Your name, address, email address, and telephone number, if You will voluntarily provide us such PII when You engage with the Services." Moreover, it explains that "If You choose to submit PII, You acknowledge and agree that we may use that information for general marketing purposes and to communicate with You by e-mail, postal mail, telephone and/or mobile devices about products or Software that may be of interest to You either from us, our parent or subsidiary companies." As you realize, you might receive commercial offers, advertisements from Weather Chickn or numerous third-party companies, and these annoying ads could be displayed through various communication forms. Some of the ads could lead you to possibly dangerous third-party sites, so it would be better to avoid it.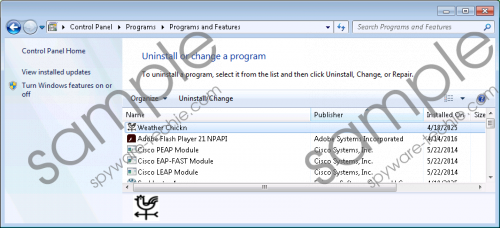 Weather Chickn screenshot
Scroll down for full removal instructions
Our primary concern for the software is the fact that after installation it has a right to download new PUP's versions, updates, including "third party monetization features/programs." This means that the application might download such programs as adware or browser hijackers to your computer. Applications like these often provide commercial ads and sponsored links from a third party. In exchange, they get advertising revenue from each ad that you click. The biggest problem with adware and similar software is that it provides ads from unreliable sources that could lead you to malicious sites or trick you into revealing your sensitive data. If you already see suspicious advertisements while surfing the Internet or on your screen, you should check Control Panel if there are any adware or other applications you did not download installed.
There is a chance that over time Weather Chickn could install suspicious applications, such as adware, or it might find other ways to bring you targeted ads. Meaning that your computer could be flooded with commercial ads, offers, and other irritating content. If you want to prevent this scenario from happening you should get rid of this PUP. Fortunately, the deletion part is not that complicated, and if you scroll below this text, you will find a removal guide. Also, you can download a legitimate security tool, and it should erase the PUP or any other threat for you. Both of these two options will delete the application from your system, and there should be no junk files left.
Delete Weather Chickn from system
Windows 8/Windows 10
Launch the RUN (Win+R).
Type Control Panel and click Enter.
Select Uninstall a program.
Mark the PUP and press Uninstall.
Windows Vista/Windows 7
Open the Start menu.
Choose Control Panel.
Click on Uninstall a program.
Select the unwanted application and press Uninstall.
Windows XP
Click on Start and launch Control Panel.
Open Add or Remove Programs feature.
Select Weather Chickn and click Uninstall.
In non-techie terms:
This application does not seem to be working, so it could be that it was created to gather user information and provide you with commercial ads, offers, coupons, etc. Another thing you should know is that the program might download unwanted software without your knowledge. Under these circumstances, it would be wise to remove it from your system before something goes wrong. The instructions above will tell you how to eliminate the PUP via Control Panel. Besides, you can install a reliable antimalware tool and use it to delete Weather Chickn.