Do you know what WannaDie ransomware is?
As you can obviously tell from the name, WannaDie ransomware is a malicious computer infection. This program targets innocent computer users because it needs to make money for its creators. Ransomware programs are really frustrating and dangerous because, more often than not, it is not possible to reverse the damage caused. The same applies to WannaDie ransomware as well: There is no public decryption tool currently available, so if you do not have a file backup, you may have to say goodbye to most of your data. Nevertheless, removing this infection from your system should still be one of your top priorities.
Our research lab team suggests that WannaDie ransomware might be a rip-off of the notorious WannaCry Ransomware that made rounds around the globe last spring. It would make perfect sense if there were an application copying various aspects of the infamous ransomware that cause quite a lot of damage to the cyber world. However, WannaDie ransomware is hardly created by the same developers. It seems that the image of the previously released infection is only used to enhance the shock that users feel when they first see the ransom note on their screens.
Also, it is very likely WannaDie ransomware is highly localized because the ransom note is entirely in Russian. So the program is probably there to terrorize only the Russian-speaking users. From that, we can also assume that the infection comes through channels that are often used by computer users in Russia and other Russian-speaking countries. The most common way for a ransomware program to spread around is to employ a spam email campaign. So does WannaDie ransomware spread via spam emails that are in the Russian language? Probably. Spam email messages that distribute such infections often look like reliable notifications from financial institutions and online stores. So it might be challenging to tell them apart, but if you suspect foul play, you can always scan the attached file with as security tool.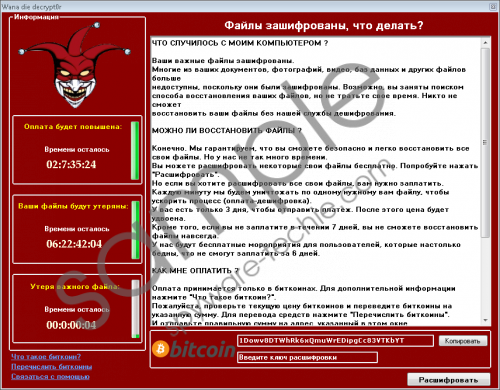 WannaDie ransomware screenshot
Scroll down for full removal instructions
Nevertheless, if WannaDie ransomware enters your system, you can expect it to behave just like any other ransomware infection would. Our team also would like to point out that this infection may be documented under several different names. We have seen it logged under Wannacry Imposter Ransowmare and Wanna_die_decrypt0r Ransomware, too. Either way, all these names refer to the same infection that uses the AES and SHA-256 algorithms to encrypt target files.
Aside from the regular dirty work of encrypting most of the user's files, WannaDie ransomware can also change your desktop wallpaper and disable Task Manager. It disables Task Manager probably to protect its processes. After all, without Task Manager you cannot kill malicious process unless you are a professional computer user and have quite a few tricks up your sleeve. So it tries to remain on the affected system for as long as possible, and it displays the ransom note that says all your important files were encrypted, and now you have limited time left to decrypt them.
This program is also very sneaky because it allows you to decrypt some of your files by clicking the decrypt button. Supposedly, this way WannaDie ransomware proves that it does have the unique decryption key. So the program gives you three days to pay the ransom, and it expects you to pay in Bitcoins. The program's interface should guide you through the payment and decryption process, but, once again, we would like to emphasize that computer security experts are strongly against paying the money to these cyber criminals.
Do not succumb to these threats. Consider all the other options possible. Perhaps you keep copies of your files in an external hard drive? Maybe you have a lot of your photos saved on your mobile device? How about your flash drives and various memory cards? What about your virtual drive? You are bound to find most of your files saved somewhere else because these days, backups are almost automatic.
So with potential file retrieval plan in mind, you can now get down to removing WannaDie ransomware from your system. We have come up with the manual removal instructions for you, but if you do not feel like dealing with it on your own, you can always acquire a licensed antispyware tool of your choice that will do everything for you automatically.
How to Remove WannaDie ransomware
Press Win+R and type %USERPROFILE%\Desktop. Click OK.
Remove the following files from the directory:
@WannaDecrypt0r.exe
@WannaDecrypt0r.png
a.wndi
d.wndi
proc.bat
pros.vbs
t.wndi
Scan your system with SpyHunter.
In non-techie terms:
WannaDie ransomware will enter your computer surreptitiously and it will try to cripple it by encrypting your files. The program knows exactly what it is doing because it needs your money. However, you should keep your money to yourself because you definitely have other ways to get your files back. NEVER pay a single cent to ransomware programs. Remove WannaDie ransomware and other threats from your computer, and then protect your system from other similar infections in the future.