Do you know what Wander Burst is?
Wander Burst is a new ad-supported program that is based on the well-known Injekt engine. This application has no real functionality, so it has no benefit for you at all. If you find it on your computer, it may mean that you have downloaded freeware from an unreliable source lately and this app has sneaked onto your system along with legitimate free software. You might think that pop-up ads and banners are innocent commercials, which you can ignore and avoid clicking on. We are here to share the possible dangers these third-party advertisements might hold for you and your computer. Not realizing these potentials might result in more malware infections threatening your system or even worse. Please read our full report to understand why and how you should delete Wander Burst from your PC.
This adware is not unique in any way; in fact, it is a simple clone of other applications built on the same engine, including Assist Point, Roaming Rate, and Dragon Branch. Practically, all of these apps have identical websites too; the only difference being the background picture or color theme. You can find the official website of Wander Burst at wanderburst.com, but do not expect too much. It is one of those good-for-nothing websites that do not disclose any useful information with regard to the application. In addition to that, you cannot even download Wander Burst from there. This makes it a rather questionable program.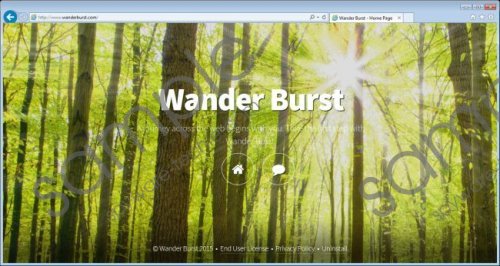 Wander Burst screenshot
Scroll down for full removal instructions
But, somehow, it does find its way to users' computers. There is, of course, no mystery behind this as Wander Burst uses the very same distribution method that is frequently applied in order to deliver malware infections onto computers all over the world. This method is called bundling. Several free programs, tools, and even malware applications can be packed together in a third-party installer that is usually available for download on P2P or other file-sharing websites. Of course, there are legitimate bundles as well; however, the infectious ones seem to be promoted mostly on suspicious and unreliable websites hosting freeware. It only takes a single click on the wrong ad or button and you might infect your system. Therefore, we suggest that after deleting Wander Burst, you run a system scan to make sure there are no other infections present.
Wander Burst is nothing else but yet another ad-supported program that bombards you with useless third-party advertisements, including pop-up ads, banner ads, and shopping offers. This adware can also gather data about your online activities so that tailored ads can be returned to your computer screen, which increase the probability of your clicks. And that is how the creators of such apps make money; they get paid per clicks. So you can imagine that they will try to make you click no matter what. But these third-party ads are more like a field of landmines. You can never know which one is reliable or potentially embedded by schemers to lure you to their infected websites. If you want to keep your system safe, we recommend removing Wander Burst right now.
Removing Wander Burst is the first step towards securing your system and restoring its previous safe state. Fortunately, it is not even a difficult step to make since this adware has an uninstaller, which can be activated in Control Panel. It is possible that you have never done such a thing before, so, you may find our guide below quite helpful. But, if you are not one of those users who are eager to do things manually, we have a solution for you too. And, to be quite frank, this is always the more effective way to take care of all the security-related issues by applying a reputable antimalware program. You will need a professional security tool anyway, if you want to keep your system integrated and safe from future malware attacks. Without it, you will always be potentially exposed to more infections, which one day can cripple your system and you will have no other choice than reformatting your hard drive.
Wander Burst Removal Guide
Windows XP
Press Start and go to Control Panel.
Select Add or Remove Programs.
Click on the application and click Remove.
Windows Vista & Windows 7
Press the Windows button in the bottom-left corner and go to Control Panel.
Select Uninstall a program.
Click on the application and click Uninstall.
Windows 8 & Windows 8.1
Move the mouse cursor to the right end of the screen and select Settings on the Charm bar.
Access Control Panel and click Uninstall a program.
Right-click on the application and select Uninstall.
In non-techie terms:
Wander Burst is an advertisement-supported program that has no other function but filling up your screen with potentially unreliable third-party ads. This is virtually a completely worthless piece of software that has no use for you at all. Keeping it on your computer will only increase your system's vulnerability and exposure to cyber criminals. If you do not want to end up with more infections or scammed out of your precious money, you should not hesitate to remove Wander Burst from your PC. In order to make sure there are no other infections threatening your system, we recommend using a reliable antimalware tool to automatically eliminate all known threats.