Do you know what Voldemort Ransomware is?
Voldemort Ransomware is the novel-inspired name of a highly malicious application that you must remove as soon as possible because it can encrypt your files with an advanced encryption algorithm. Fortunately, at the time of this article, this application does not work and will not encrypt your files. Still, it is being disseminated via email spam, and if your PC becomes infected with it, then it can stay there indefinitely. Now, if it happens to come back to life and encrypt your files, then it will demand that you pay a ransom for the decryption tool to restore them. However, there are no guarantees that you will get the key or whether it will work.
This ransomware's distribution methods are not yet known, but our malware researchers believe that it is most likely disseminated by either email spam or exploit kits, so let us talk about them a bit more. If this ransomware is being distributed via email spam, then the emails could either feature its main executable in a zipped file, a malicious Word file that initiates the download of the executable or the email just features a link to the executable's download server. The emails may appear legitimate, but you should pay close attention to the sender's email address and take note of the email service provider because legitimate companies tend not to use Gmail, AOL, names in the emails. Regardless of the dissemination method, Voldemort Ransomware's main executable can be dropped anywhere on your PC.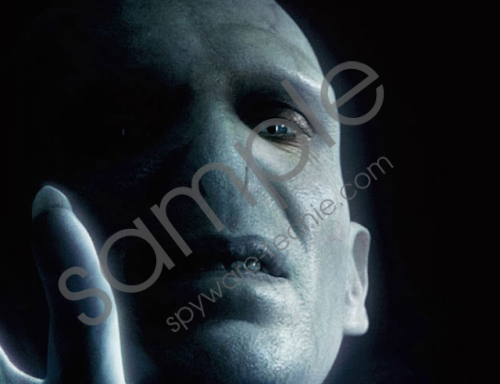 Voldemort Ransomware screenshot
Scroll down for full removal instructions
Once on your computer, this ransomware will show an image of Lord Voldemort for a few seconds and then close it. We think that if it worked, then its encryption algorithm would kick in at this point and encrypt your documents, pictures, videos, audios, applications, and so on, but good thing it does not because you would not be able to decrypt them for free. Regardless, once the Voldemort's image disappears, this ransomware will terminate explorer.exe which runs the Graphical User Interface (GUI), and you will be unable to use your PC. The good news is that you can start explorer.exe again by simultaneously holding down Ctrl+Alt+Delete and running Task Manager, then clicking File and New Task (Run…) and typing in explorer.exe in the box and clicking OK. So, apart from terminating Windows Explorer, this malicious program does not do anything else.
However, if Voldemort Ransomware did work and encrypted your files, then it would demand that you pay a ransom for the decryption key. We do not know how much money would the developer want you to pay, but that payment can range from anywhere between 180 USD to 1,000 USD or even more. We think that you would have to pay the ransom in Bitcoins, but since this ransomware does not drop a ransom note, we do not know how you are expected to contact the developer, pay the ransom or receive the decryption tool. However, if this ransomware starts functioning, we urge you not to pay the ransom because you might not get the decryption tool or it might work because, as you can see, Voldemort Ransomware has a tendency to have technical issues.
If your computer happens to become or already is infected with this ransomware, then we suggest getting rid of it as soon as you can because there is no telling when it will spring into action. The chances are that it will never work at all but there is no way to be sure. So we suggest that you locate its executable named nagini.exe (name can vary) and delete it. Since this executable can be placed anywhere on your PC, we suggest using SpyHunter's free scanner to detect it for you, so that you could remove it manually afterward.
How to remove Voldemort Ransomware
Simultaneously press Ctrl+Alt+Delete.
Click Task Manager.
Click File and click New Task (Run...)
Enter explorer.exe and click OK.
Install and run SpyHunter.
Scan the PC to find nagini.exe
Go to its directory, right-click nagini.exe and click Delete.
Empty the Recycle Bin.
In non-techie terms:
Voldemort Ransomware is an extremely malicious application whose purpose is to encrypt your files and demand money in return for the decryption tool to decrypt them. It is set to terminate Windows Explorer and deny you the means to use your PC. However, it is not fully functional and even though it can infect your PC, it will not encrypt any files on it. Therefore, we advise you to move in quickly and remove it using the guide above.