Do you know what VitalBrowserHelper is?
VitalBrowserHelper is yet another adware program we can add into our basket of annoying applications. This application wants you to think that it will help you improve your web browsing experience, but that is very far from the truth. It is far more like that the program will redirect you to affiliated websites without your permission, and then you would risk getting infected with malware. It is important that you remove VitalBrowserHelper immediately, as you can never know what complications you might face in the near future. Please scroll down for the manual removal instructions below this description, and do not hesitate to leave us a comment if you have any questions about how to ensure your system's safety.
When it comes to adware programs, it is quite often that we cannot consider them malicious infections because of their distribution methods. For instance, VitalBrowserHelper has an official website. You can access it via vitalbrowserhelper.com. The website is functioning, and it even has a working download button. Usually, adware programs have dysfunctional websites that are developed just for a show, but that is not the case with the VitalBrowserHelper's page. If you click the download button, you will initiate a program download and eventually the application will be installed on your computer.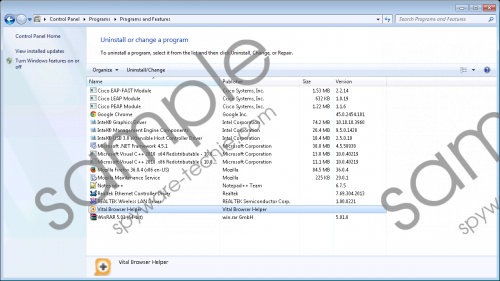 VitalBrowserHelper screenshot
Scroll down for full removal instructions
Nevertheless, our computer security experts suggest that direct download is not the only distribution method used by this application, and you need to be really attentive when you download freeware from third-party websites. In the case of the bundled download, VitalBrowserHelper will enter your system together with some application you wanted to have. If you do not follow all the installation steps closely, it is very likely that the adware program will settle in your system without even batting an eyelash. And then, you will have to deal with the adware installation consequences.
The official stance of this program is that VitalBrowserHelper is a "free browser add-on that brings you exclusive deals while you browse the Internet." However, after the installation we have found that the application does not add any extensions to your browser. Instead, it uses a service to display commercial ads when you browse the web. The service collects information on what websites you visit what you are looking for on the Internet. Thus, the commercial advertisements you see on your screen are very often related to your likes and preferences.
Since the commercial ads are tailored according to your web browsing habits, this should increase the possibility of your clicking those ads, but you definitely know better than that. You should NEVER click any of the VitalBrowserHelper ads because there is no guarantee you will land on a reliable website. For all it's worth, the ads could be embedded with outgoing links that lead to malware-related pages. Thus, in the worst case scenario, it would not be surprising if you got infected with a dangerous Trojan or a rogue antispyware application after clicking on a VitalBrowserHelper ad.
Avoid such dire consequences by removing VitalBrowserHelper today. You can uninstall this program via Control Panel. If you think you may have more unwanted applications on-board, you will definitely find out more about your current status by running a full system scan with the SpyHunter free scanner.
How to Remove VitalBrowserHelper
Windows 10, Windows 8.1 & Windows 8
Press the Windows key + R for the Run command prompt to pop up.
Type "control panel" into the Open box and click OK.
Go to Uninstall a program and remove VitalBrowserHelper.
Windows Vista & Windows 7
Open the Start menu and click Control Panel.
Select Uninstall a program and remove VitalBrowserHelper.
Windows XP
Click the Start menu button and navigate to Control Panel.
Double-click Add or remove programs and uninstall VitalBrowserHelper.
In non-techie terms:
VitalBrowserHelper is the program that generates all those annoying pop-up ads on your screen. These pop-ups should not be tolerated because there is no telling what that could lead you to. Please remove VitalBrowserHelper from your computer and invest in a licensed antispyware tool to protect your system from harm. For an alternative software removal method, check out the secondary set of instructions below this description.