Do you know what ViperDJ is?
ViperDJ is supposed to be a music mixer; however, it seems that it does not only function that way. Unfortunately for unlucky users who have this application on their computers, it can start displaying third-party advertisements. What's more, this program also installs malware infections, such as toolbars and adware. Since it can also arrive together with other malware programs, it is more than likely that you have seen third-party ads while you were trying to surf the web. It is also possible that your browser settings have changed without your knowledge. All in all, you can still save your computer from more security-related issues if you act now. We suggest that you remove ViperDJ because it is a questionable tool that can create more headaches than fun time.
It always pays to research the software you want to have on your computer. For example, in this case, if you do a web search in Google knowing the name of this app, ViperDJ, guess what you will find: A whole results page of how to delete ViperDJ and its advertisements. If you do this search, you will most probably not try to even think about downloading this suspicious software. However, let us suppose you end up "magically" on its official web page at viper.dj and you download it. Unfortunately, even the official installer contains malware programs. You should not tolerate a program on your computer that brings potentially harmful applications on-board. That is one of the reasons why we believe that you should remove ViperDJ.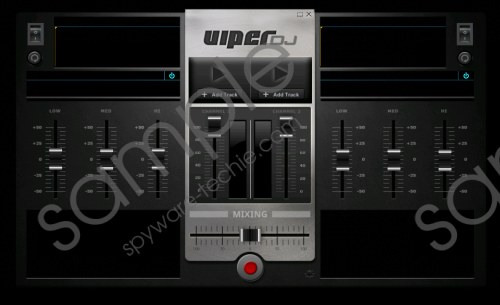 ViperDJ screenshot
Scroll down for full removal instructions
There is also a chance that you have never seen this website and this PUP is somehow there on your computer. It is possible because our researchers have found it in free software bundles together with malware infections. If you have visited unfamiliar or unreliable freeware sites or downloaded torrent files lately, you may have got this infection through these sources. We recommend that you stay away from such sites to protect your PC from malware.
ViperDJ may mix two music files together, but it does not even matter because of the "price" you may have to pay for this. The presence of this PUP means that you may be introduced to third-party commercials, such as pop-ups, which may lure you to malicious websites. Since this PUP can collect information about you and even share them with third parties, it is likely that you will see ads that are relevant to you in a way. This makes it even more likely that you will click. But remember that one click is more than enough if you happen to click on an infected ad and end up on an unsafe website. You should remove ViperDJ as a first step towards a clean and safe computer.
Fortunately, you do not need to perform a brain surgery here in order to eliminate this threat. All you need to do is uninstall ViperDJ via Control Panel. If this does not sound simple enough, please use our guide below to help you. In order to make your computer fully secure, we advise you to download and install an authentic malware removal application. Keep that tool updated and you will get full-time protection in return.
How to remove ViperDJ from Windows
Windows 8, Windows 8.1, and Windows 10
Press Win+Q and type in Control Panel. Hit Enter.
Open Uninstall a program.
Select the program and press Uninstall.
Windows Vista and Windows 7
Access the Start menu and select Control Panel.
Go to Uninstall a program.
Select the program and press Uninstall.
Windows XP
Click Start and go to Control Panel.
Click Add or Remove Programs.
Select the undesirable application and press Remove.
In non-techie terms:
ViperDJ is a questionable music mixer application that might act unexpectedly and expose you to harmful web content through third-party advertisements. Therefore, it has been categorized as a potentially unwanted program. This application installs toolbars and adware programs as well, which may put you in danger, again, through third-party ads. Since this PUP can also come in free software bundles, there is a good chance that you will find a couple of malware threats as well on your computer. That is why we think that there is only way to go about this infection: You should remove ViperDJ and the related threats as well.