Do you know what VersaVideo is?
It is important to know that if VersaVideo is on your system, there might be other suspicious programs too, because the application's installer is bundled with potentially unwanted programs (PUPs), browser hijackers, etc. Also, it is possible that you noticed the program when it was displayed by a browser hijacker that changed your search results. In any case, you should get rid of this unreliable application and erase all the other threats from your computer. You can learn how to delete VersaVideo from the instructions located below the article. It would not be wise to leave this software on your system since it has some bothersome features. The application is classified as adware, and so it might disturb your browsing with the regularly appearing pop-ups and ads. The ads are direct links to potentially harmful third-party web pages, so you might want to avoid them.
As it was explained above, there is a chance that besides VersaVideo you have other suspicious programs on your computer. According to our researchers, it could be true if you either downloaded the adware from its official site or if you have a browser hijacker on your computer. We noticed that the official installer is bundled with various programs, so on the setup wizard, you might have been offered to install other applications, such as MyPcBackUp, Yoursearching.com, Search Know, and others. Since many users do not notice suggested applications in the installation wizard, it may have happened to you too.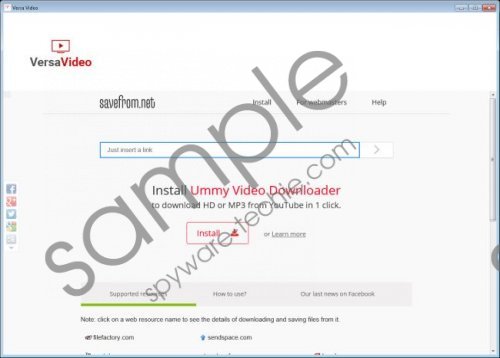 VersaVideo screenshot
Scroll down for full removal instructions
Furthermore, if your search engine was recently changed without your permission, you might have a browser hijacker. It could modify your search results by placing sponsored links that promote adware, PUPs, other browser hijacker, and so on. On the official website, it says that VersaVideo is a tool that should help you download videos from the Internet, so this adware might easily deceive users. To check if you have any browser hijacker or other suspicious programs, you could download a reliable security tool and use it to scan your system.
The main reason why you should erase the adware is the fact that it promotes untrustworthy third-party web pages. When you search the Internet or launch this application, you will see various pop-ups that will lead you to third-party sites. Also, the program can open a new browser window and load websites, such as electronics-sweepstakes.com, redtag-specials.com, reg.winningsurveys.com, and others. The content on third-party sites could be malicious and dangerous to your computer. Also, some of the sites could invade your privacy and gather your sensitive information. Thus, to avoid such risks, you should stay away from third-party sites and remove the adware as soon as you can.
Luckily, you can erase VersaVideo and all its files via Control Panel if you open it and select to uninstall the adware. Do not worry if you do not know how to find Control Panel on your system, just slide down below this text and take a look at the provided removal steps. You should be aware that you could download an antimalware tool and erase the application with it. Simply, install the tool and launch it so it could scan your computer and search for threats. When this process is done, you can see a list of malicious programs on your PC, their locations, and other relevant information. All that is left to do is to click a button that will eliminate all the threats.
Delete VersaVideo
Windows 8 & Windows 10
Press Windows Key+R.
Wait till you see the RUN.
Type Control Panel and click OK.
Find and open Uninstall a program.
Select VersaVideo and press Uninstall.
Windows Vista & Windows 7
Go to Start menu.
Locate and launch Control Panel.
Choose Uninstall a program.
Mark the application and click Uninstall.
Windows XP
Navigate to Start and open Control Panel.
Click on Add or Remove Programs.
Select the adware and press Uninstall.
In non-techie terms:
The adware has a deceiving description as it says that VersaVideo is a tool that downloads videos to user's computer. Unfortunately, with this program on your system, you will see lots of suspicious ads that could redirect you to possibly harmful websites. If you want to keep your computer protected you should remove the application and make sure that there are no other threats. The easiest way to delete adware or other threats would be to install a security tool. Also, you could try to remove the adware with the instructions above and then look for suspicious programs through Control Panel or browser's extensions manager.