Do you know what VAFMusic is?
VAFMusic is a questionable music player that we do not advise you to have or keep on your computer due to certain suspicious traits it exhibited while our researchers were testing it in our internal lab. Since the application itself is not a dangerous threat, it has been categorized as a PUP, a potentially unwanted program. But you should not be all relieved and neglect this situation. Just because it is not a Trojan infection, it does not mean it is all right to keep it on-board. There still might be certain risks that can harm your computer. Let us share with you what we have found out about this PUP. But before we dive into the pond of details, we can tell you this now: You should remove VAFMusic if you want to keep your PC protected.
This PUP is obviously not a new invention; we have seen other very similar applications, media players, including SpeedVideoPlayer. These free applications are usually ad-supported, which means that they are capable of displaying third-party commercial advertisements on your computer screen; not only in your browsers while you are surfing the net, but also through the application window itself. VAFMusic claims to be a music player that can also enable you to search and download over 10,000 songs.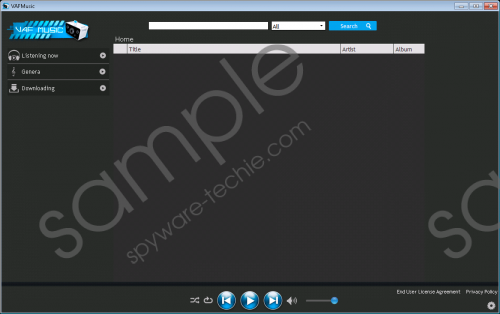 VAFMusic screenshot
Scroll down for full removal instructions
However, according to our researchers, not only can this PUP show you advertisements via its application window, but it may also create pop-ups and new tab pages in your browsers when you go surfing online. That is rather suspicious and might also be risky because you could be exposed to unreliable ads. Third parties are not always trustworthy, or we should say, they should never be trusted since even schemers may pose as third parties. If you click on an infected ad, you might end up on a malicious website where all kinds of nasty things might happen. That is an experience that you should try to avoid at all costs. And that is why we suggest that you should delete VAFMusic from your computer.
Although this PUP has a website at vafmusic.com, we do not recommend clicking on the download button. You would be rather disappointed to realize that VAFMusic has an infected official installer, which means that it installs bad toolbars and adware applications onto your system. In other words, you will get more than you bargained for; and not in a good sense at all. So, even if this application itself may not seriously harm your computer with its ads, it may do so by installing malware infections. That is a rather suspicious trait, one that should not be neglected. Actually, this should be enough for you to step up and remove VAFMusic right away.
But that is not even the worst thing that can happen in connection with this PUP. It may also arrive in a freeware bundle. Since the bundles VAFMusic has been found in may contain malware programs, such as adware apps and browser hijackers, chances are your computer is already under attack by multiple threats. That is why you cannot take this lightly and you should run a full system scan after deleting VAFMusic to see what else is endangering your operating system.
Finally, it is time to talk about solutions. If you decide to take action against VAFMusic manually, you can follow our instructions below and this infection will be gone in a minute. But do not forget about the other potential threats. In order to take care of those, we suggest that you use a powerful security tool, such as SpyHunter, which has proven to be a reliable program for us. If you have any questions regarding the removal of this infection, please leave us a comment below.
Remove VAFMusic from Windows
Windows 8, Windows 8.1, and Windows 10
Press Win+X and open Programs and Features.
Click on the application and press Uninstall.
Windows Vista and Windows 7
Press Win+R and enter Control Panel. Press OK.
Select Uninstall a program.
Click on the application and press Uninstall.
Windows XP
Open the Start menu and choose Control Panel.
Access Add or Remove Programs.
Click on the application and press Remove.
In non-techie terms:
VAFMusic is a potentially unwanted program that might pose a threat to your computer indirectly. It can install malware infections, such as adware programs, even if you download the official version. However, this PUP may also be distributed in freeware bundles together with malware infections. So no matter how it arrived, it may have brought several more threats onto your machine. Therefore, we recommend that you remove VAFMusic and every other infection you may find.