Do you know what VAFGames is?
VAFGames is a potentially unwanted program that allows users to play flash games from the vafgames.com website. This program is associated with adware and other undesirable software that could lead to various computer security problems. If you happen to have installed this program on your PC accidentally, it is strongly recommended that you remove VAFGames from the system immediately. Scroll down for the manual removal instructions, and then do not forget to invest in a computer security program of your choice, as you need to make sure that your system is protected from similar intruders in the future.
The guys in our research lab say that this program may come via the official source or bundled with freeware. Normally, one would think that downloading a program from its official website is a lot safer than getting it from a third-party source, but that may not be the case with VAFGames. During our tests, we have found that the official installer for this application also offers to set up suspicious toolbars and adware applications on your computer. Although you can choose not to install the additional software, it is still rather alarming that a supposedly safe application offers users to install adware. After all, as you know, adware programs often are exploited by cyber criminals for corrupted content distribution.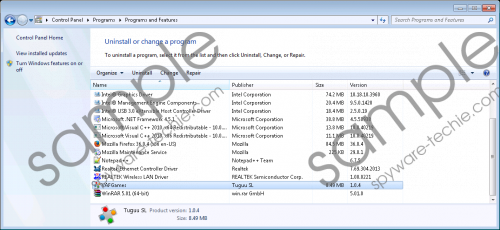 VAFGames screenshot
Scroll down for full removal instructions
What's more, if you play games via VAFGames, you will see that the program displays a lot of commercial advertisements as well. The advertisements are shown within the program, but it is also possible for the application to generate pop-ups and spam you with them when you browse the web. Research suggests that VAFGames can also open new tabs in your browser to display commercial content with the intention to redirect you to affiliated websites. The program behaves like that in order to reap financial profit. To be honest, there is nothing illegal about this because the behavior is definitely covered in the program's privacy policy. However, the thing that worries us the most is the third-party content.
You see, almost anyone can embed their links into the VAFGames ads. Thus, if you happen to click them, you can never be sure where you will land or what website you will open. Albeit the program itself is very far from being a genuine computer infection, it could definitely be used as a tool for malware distribution, and, in the worst-case scenario, your system would soon be swarmed with dangerous threats.
Our data shows that VAFGames is similar to MegaPlayer and SpeedVideoPlayer applications, so it is clear how one should get rid of the program. Luckily, potentially unwanted applications often come with entries in the list of installed programs, so uninstalling VAFGames via Control Panel should not be too challenging.
However, if you find it hard to locate all the unfamiliar programs that might have come with VAFGames, then, as mentioned in the first paragraph, you should rely on an automated spyware removal tool. Just because a program is not a dangerous infection, it does not mean that it could not be used for spreading them. Whenever a program is associated with adware and other unfamiliar applications, you should be very careful about installing it on your PC.
How to Delete VAFGames
Windows 10 & Windows 8.1
Right-click the Windows icon on the left corner of your taskbar.
Click Control Panel on the drop-down menu.
Go to Uninstall a program and remove VAFGames.
Windows XP
Click the Start button and open Control Panel.
Go to Add or remove programs and uninstall VAFGames.
Windows Vista & Windows 7
Open the Start menu and click Control Panel.
Select Uninstall a program and remove VAFGames.
In non-techie terms:
VAFGames provides users with an access to multiple flash games, but it also displays commercial advertisements that might be embedded with corrupted outgoing links. You should remove VAFGames from your system if you want to avoid potential security issues. You may refer to the secondary set of removal instructions below if you want an alternative way to get rid of undesirable software. Should you encounter any difficulties, please leave us a comment.