Do you know what VAFCompressor is?
Have you any doubts that VAFCompressor acts not in a way a reliable application should? You notice some strange things with your computer after the installation of this file compressor? If so, you have landed yourself on the right page as there you will find the necessary information that will help you decide whether to keep this application on your device further or not. The decision may not be the hardest you have ever taken. VAFCompressor is an entirely untrustworthy potentially unwanted application that will bring you no benefits, only troubles. We have tested the program in our laboratory and think that anyone caring about his/her virtual safety should delete this application.
During our research, we have found that VAFCompressor is installed by the DomaIQ install manager. The latter is responsible for installing many adware applications, including SaveNewAppz and ExstraSavings. It is not beyond possible that VAF Compressor already brought various adware programs to your system. What is for sure is that this file compressor tries to install Babylon Toolbar, Claro Toolbar, and some more toolbars that offer very questionable benefits. Ignore all those additional programs promoted by VAFCompressor.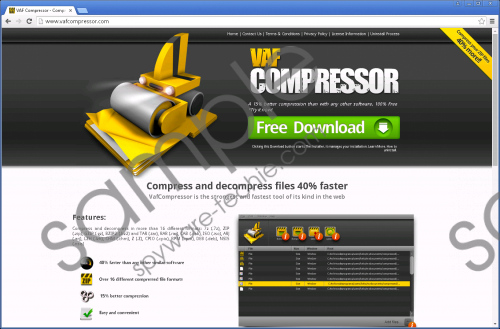 VAFCompressor screenshot
Scroll down for full removal instructions
Ok, you can ask us why you should eliminate the file compressor from your system. Maybe it is even working properly. The reason is that this application shows you annoying advertisements. They may "include, without limitation, content, offers for products or services, data, links, articles, graphic or video messages, text, software, music, sound, graphics or other materials or services." We took this quote from the VAFCompressor's Terms & Conditions. Do you really want to encounter all these advertisements on a regular basis? Besides, those ads may be generated by unreliable third parties that this file compressor can be associated with.
There are some more things about VAFCompressor we need to tell you. First of all, this application sometimes hides its arrival to your system and may be found bundled with free software. Second, if it has managed to sneak into your system, it may even take control of your browser and replace your homepage and search engine. If you have suddenly encountered strangely looking search results, please note that VAFCompressor can be the one responsible for this.
So, it is time to implement the right action regarding VAFCompressor. It is quite easy to remove the potentially unwanted application by means of Control Panel. Our mission would not be completed without providing you with a short but detailed guide on how to get rid of this bad file compressor. All you have to do is thoroughly follow the instructions that you will find below, and the unreliable application will soon be gone.
But elimination of VAFCompressor will not solve all of your security problems. Programs that this application might have brought together can already be engaged in some damaging activity. It takes much time and energy to fight with them on your own. So, consider using a trustworthy security tool. If you always keep your anti-spyware scanner upgraded to the latest version, you can be sure that no infections, even the most recent ones, are able to enter your PC. Of course, the security tool will also eliminate all the suspicious programs that might have come together with VAFCompressor.
How to remove the unwanted application from your system
Windows 7 and Windows Vista
Click the Windows button.
Go to Control Panel and access Uninstall a program.
Remove VAFCompressor.
Windows XP
Open the Start menu and proceed to Control Panel.
Access Add or Remove Programs and eliminate VAFCompressor.
Windows 8, Windows 8.1, and Windows 10
Press the Windows key + W.
Enter Control Panel in a box.
Click the icon and go to Uninstall a program.
Locate VAFCompressor and remove it.
In non-techie terms:
Do not be enticed by promises that VAFCompressor makes. The application supposes to compress files, but it is involved in many unacceptable activities. It displays you third party advertisements that can be dangerous to click on. Besides, the program tries to install toolbars and even may replace your default search engine and homepage. You should not tolerate this possibly unwanted application any longer. Remove it by following our instructions.